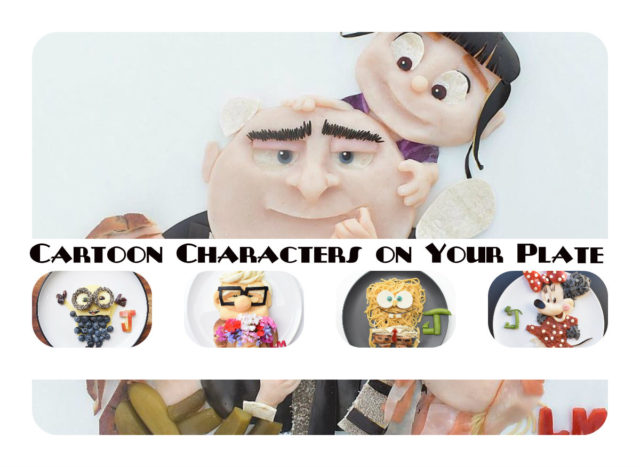 People all over the world have become very creative with their food. It is easy to make your meal and just put it on the plate. Decorations are also a thing of the past, and nowadays, people have been posting photos of all kinds of food put together in different shapes and sizes. We present you your favorite cartoon characters on the plate. These creations are complicated to make, and they look outstanding I would feel sorry for cutting them with my knife.
1. Carl Fredrickson
Carl Fredrickson is holding flowers? He is absolutely adorable and would it be wrong to say that he looks tasty as well?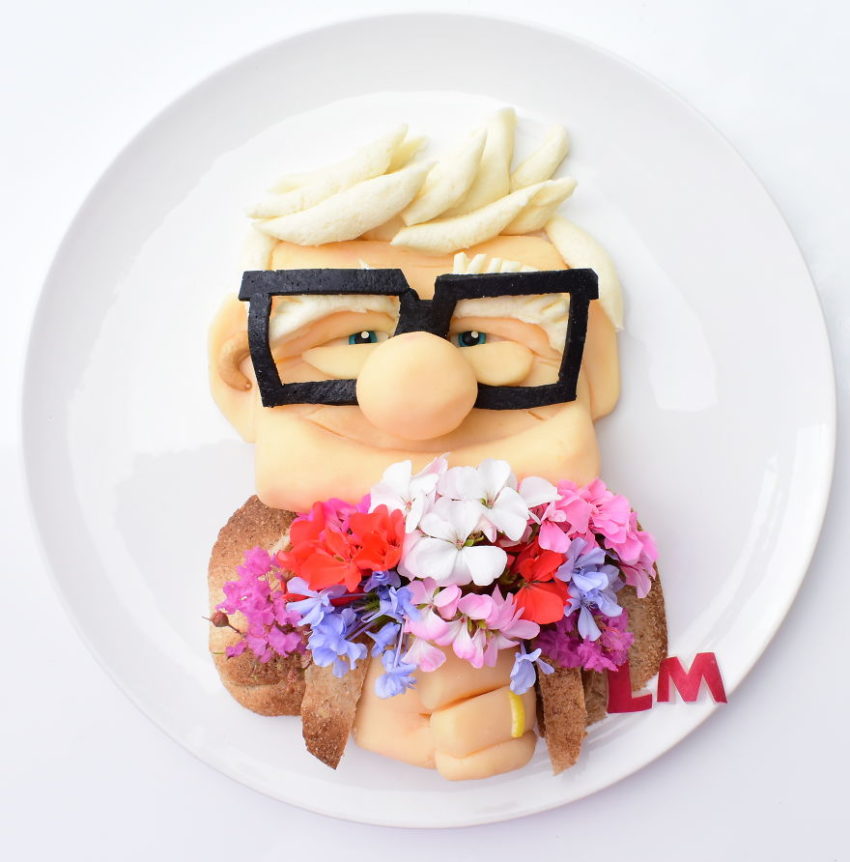 2. Snow White
Making pancakes for the face and fruit for the hair and necklace is all you need. Only a few ingredients are enough for this wonderful creation of one of our favorite cartoon character.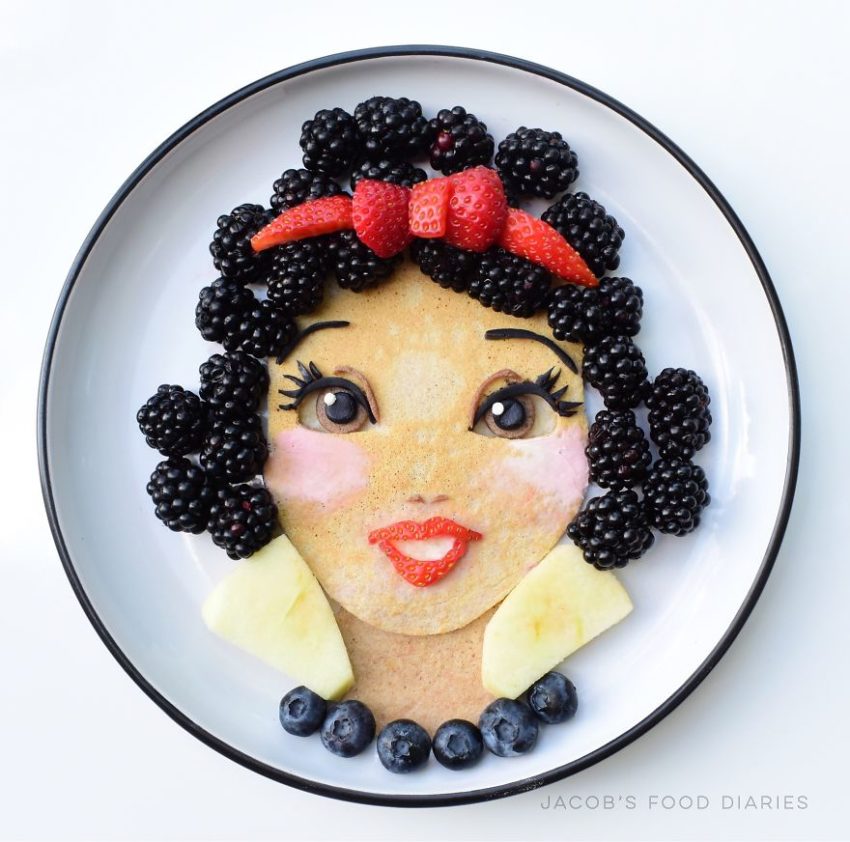 3. Patrick
If you want to make somebody try sushi, perhaps you should put it in the shape of Patrick the Star. Definitely, the funniest Sponge Bob character now comes in the form of food.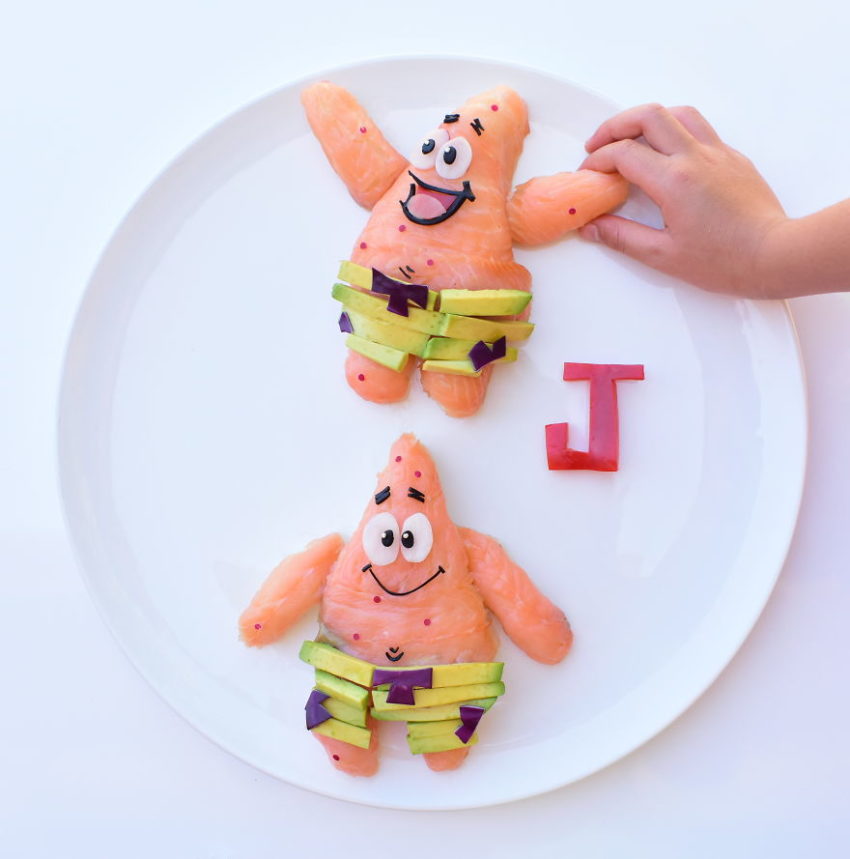 4. Scooby Doo
Another delicious treat made with the combination of fruit and pancakes. This time you need cocoa as well and apples, strawberries, plum, blueberries, and kiwi.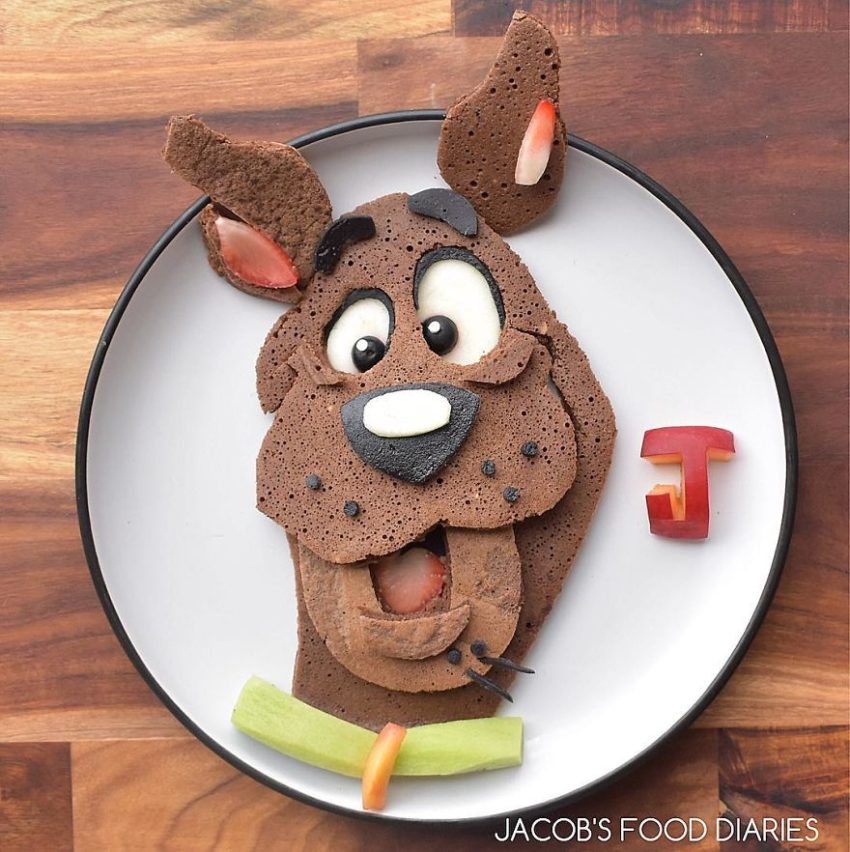 5. Assistant Bellwether
Who doesn't like Bellwether? However, this sheep is going to taste a little bit different from what you used to.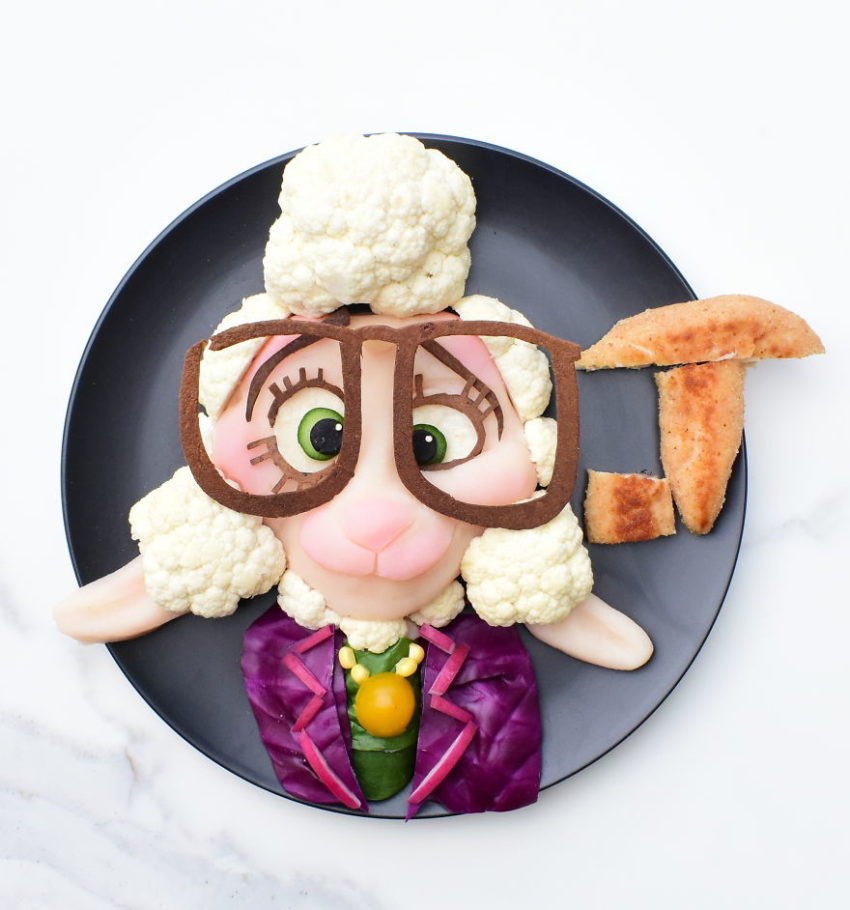 6. Despicable Me 3 Characters
One of the newest cartoons that won the hearts of adults and children is Despicable Me. Who doesn't love this family, with adorable kids and grumpy father? This time they come in the form of food, but unfortunately without minions.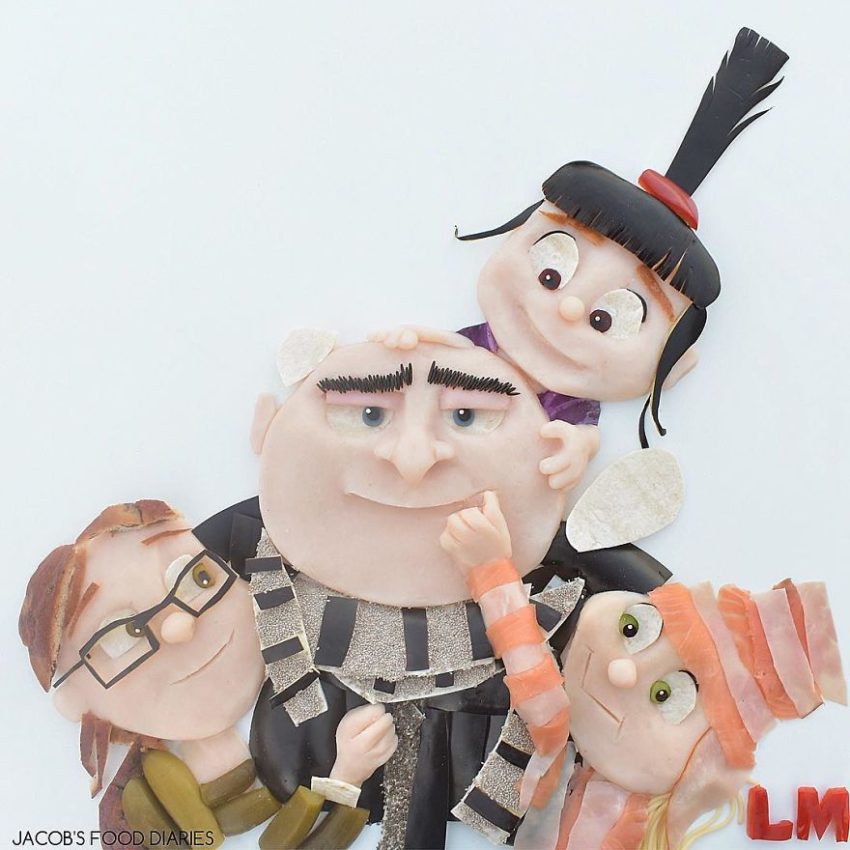 7. Sully – Monsters Inc
It is not that difficult to create Sully on a plate. All you need are cold noodles, organic eggs, radish and purple cabbage. If you are a vegetarian, you will enjoy this scary meal.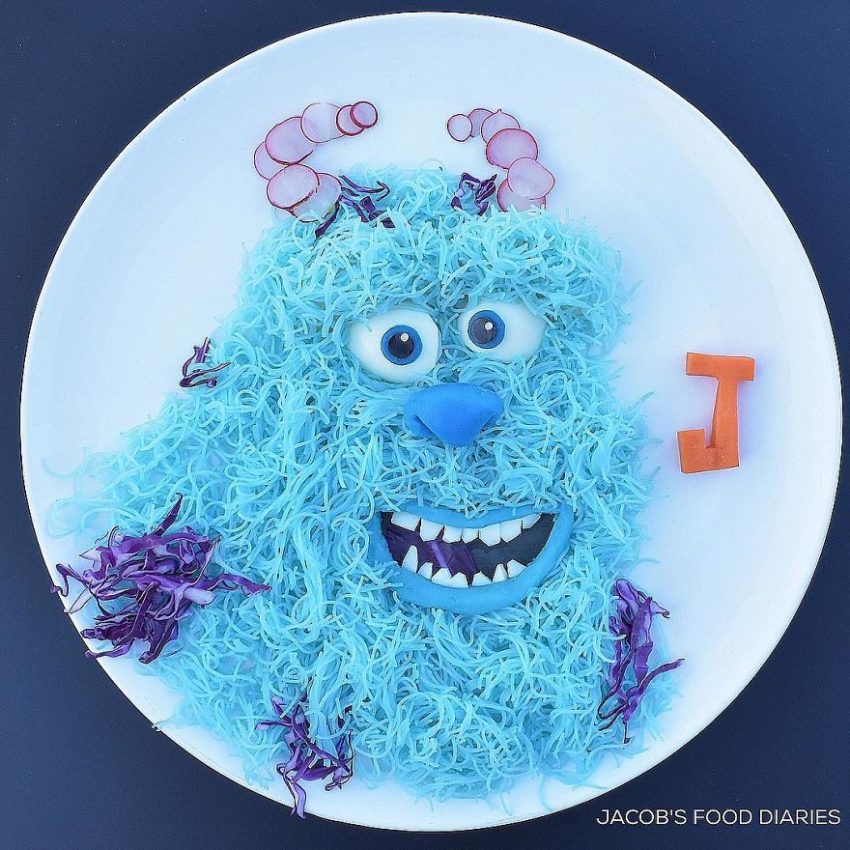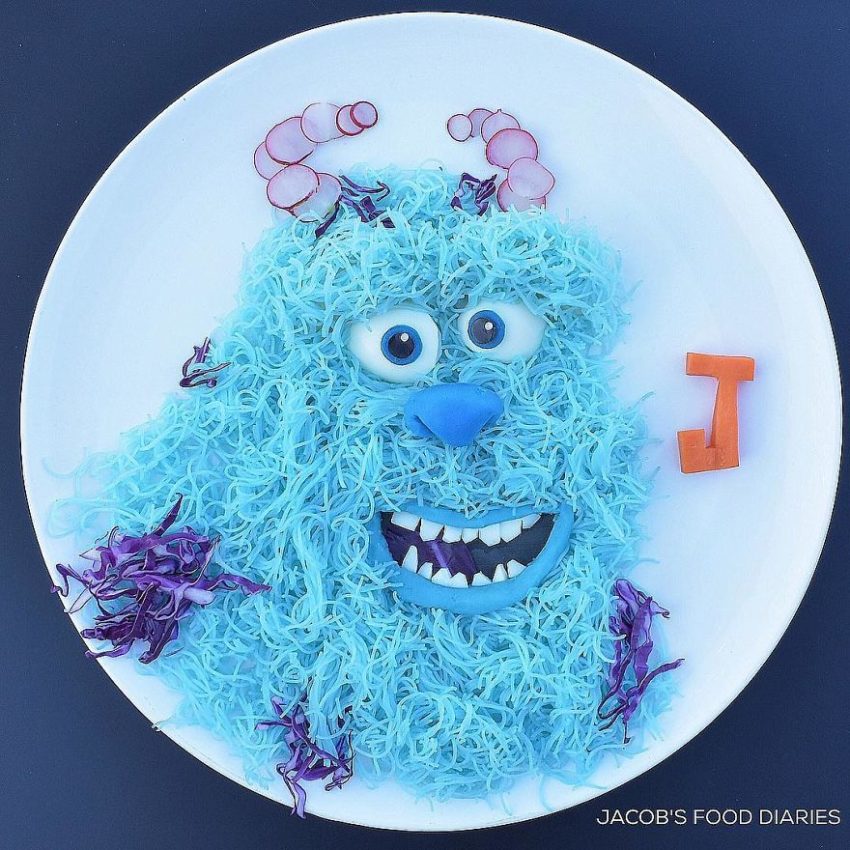 8. Kermit, the Frog
This frog might not be as tasty as the other frogs. Wait, are frogs tasty? Most certainly not, but Kermit the Frog is made of grapes and apples in combination with bocconcini. We assume that anything that is green works.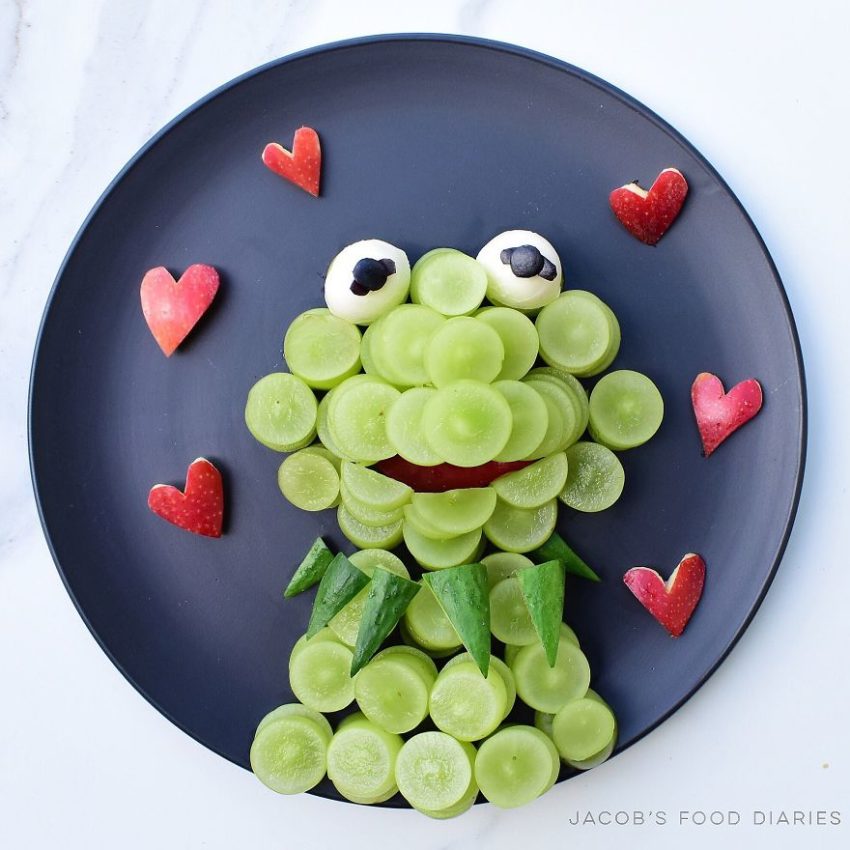 9. Sponge Bob
You need all kinds of ingredients to make Sponge Bob. Of course, Noodles are the inevitable part, while honey soy chicken, tofu, and enoki mushrooms will complete the look.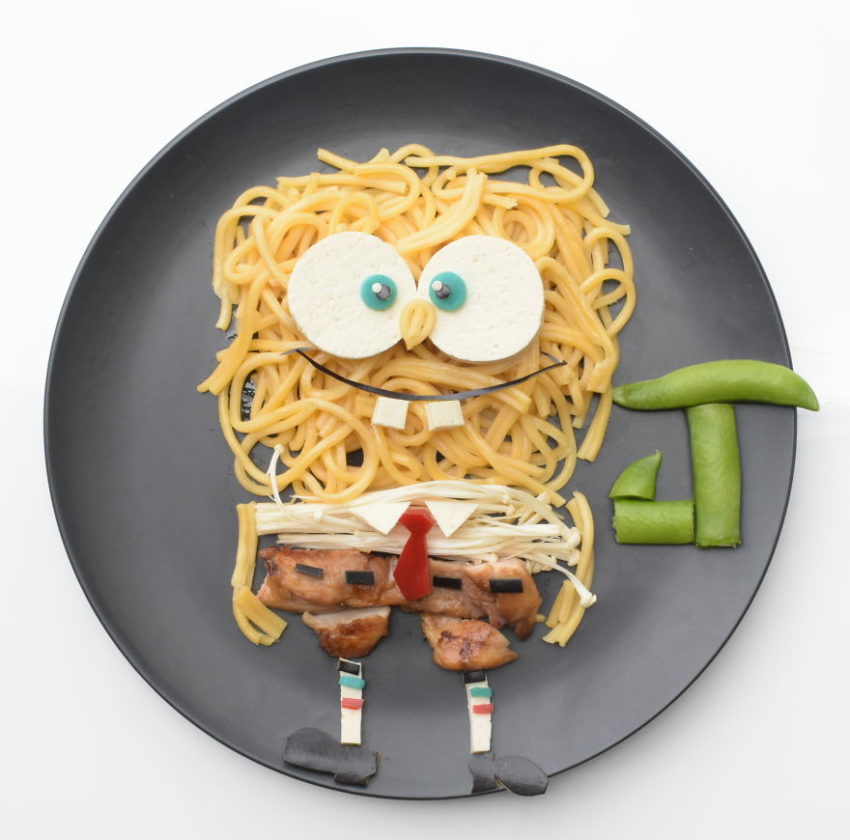 10. Scar – Lion King
This image on the plate will definitely scare you. Scar from Lion King is made of dahl with wild rice and mash potato.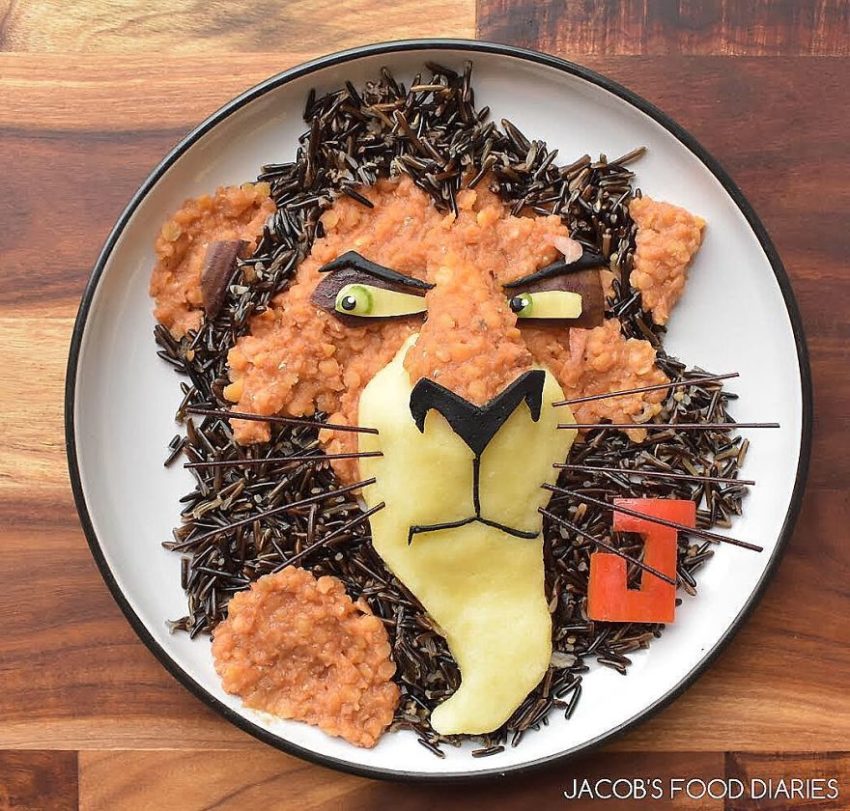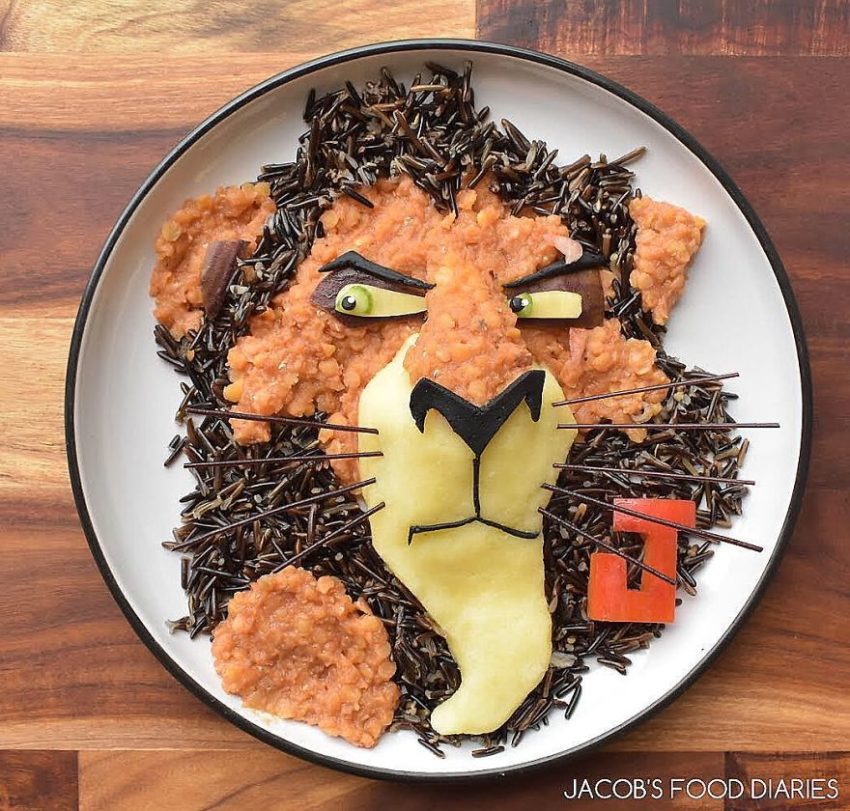 11. Winnie the Pooh
This cute character is also delicious. Prepare this for your kids, and they will love it. Spelt sweet potato gnocchi with Napoli and spinach sauce are used for this mixture called Winnie the Pooh.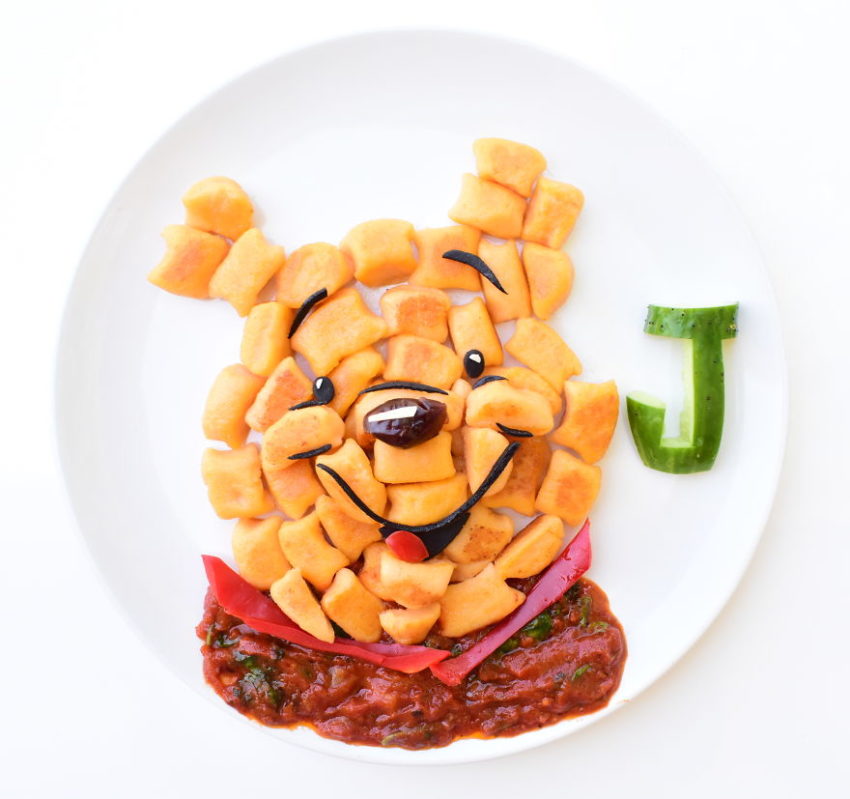 12. Carl from Up
Once again you can see the image of Carl, but this time, it has a stuff roasted chicken instead of a body.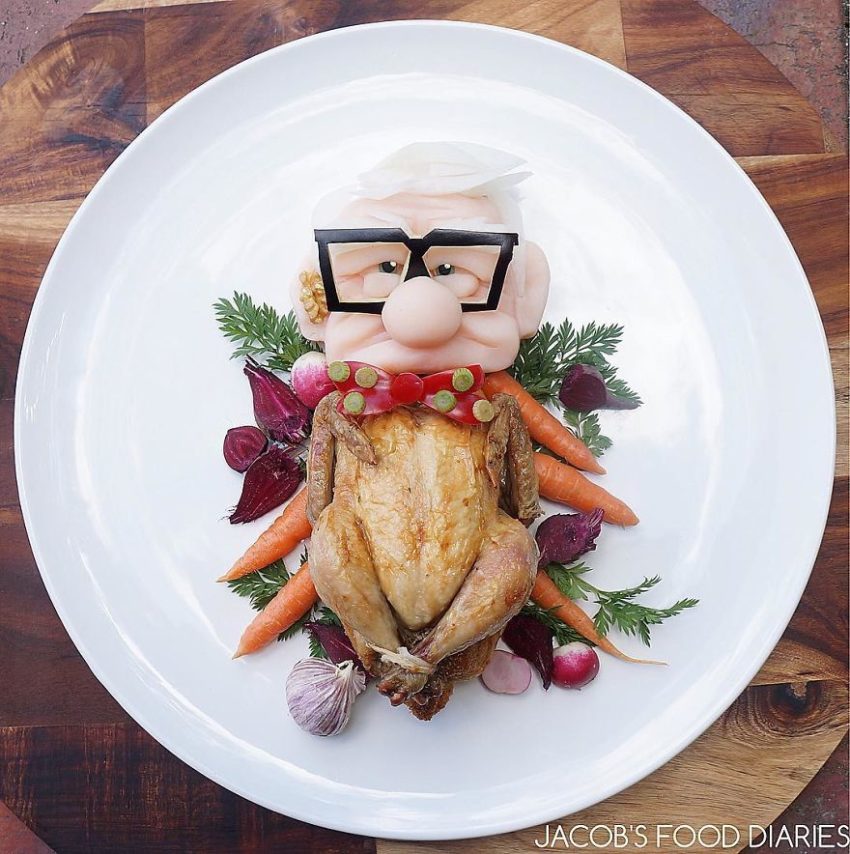 13. Melman from Madagasca
Who doesn't love this foolish creature? You will need a lot of corn to recreate its image on your plate. And a lot of other ingredients as well.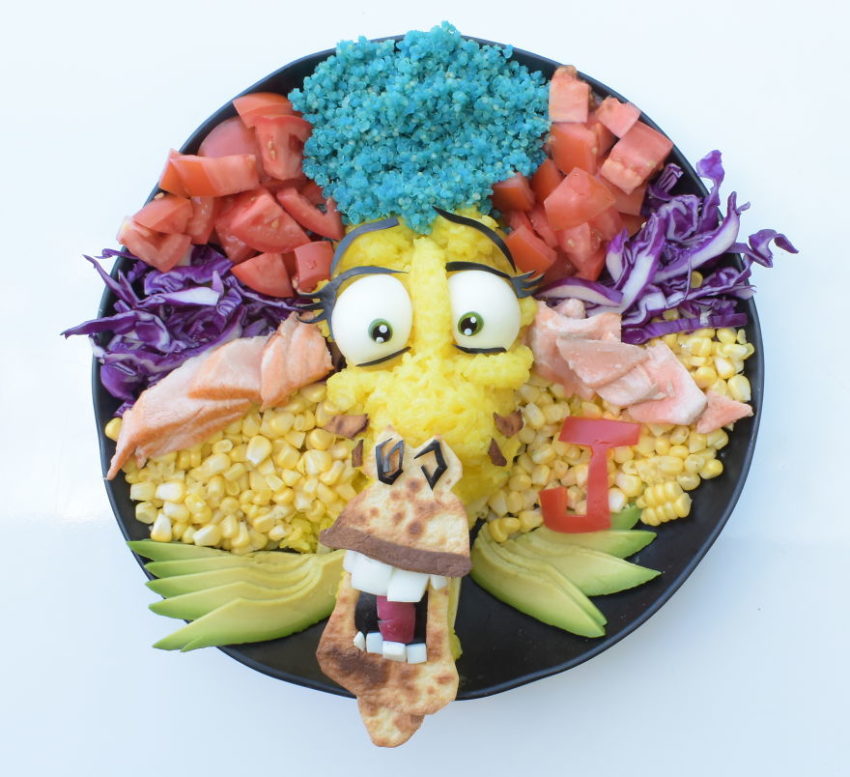 14. Kung Fu Panda
Try to eat this fat warrior, and you will get kicked. We wouldn't dare to start first, would you?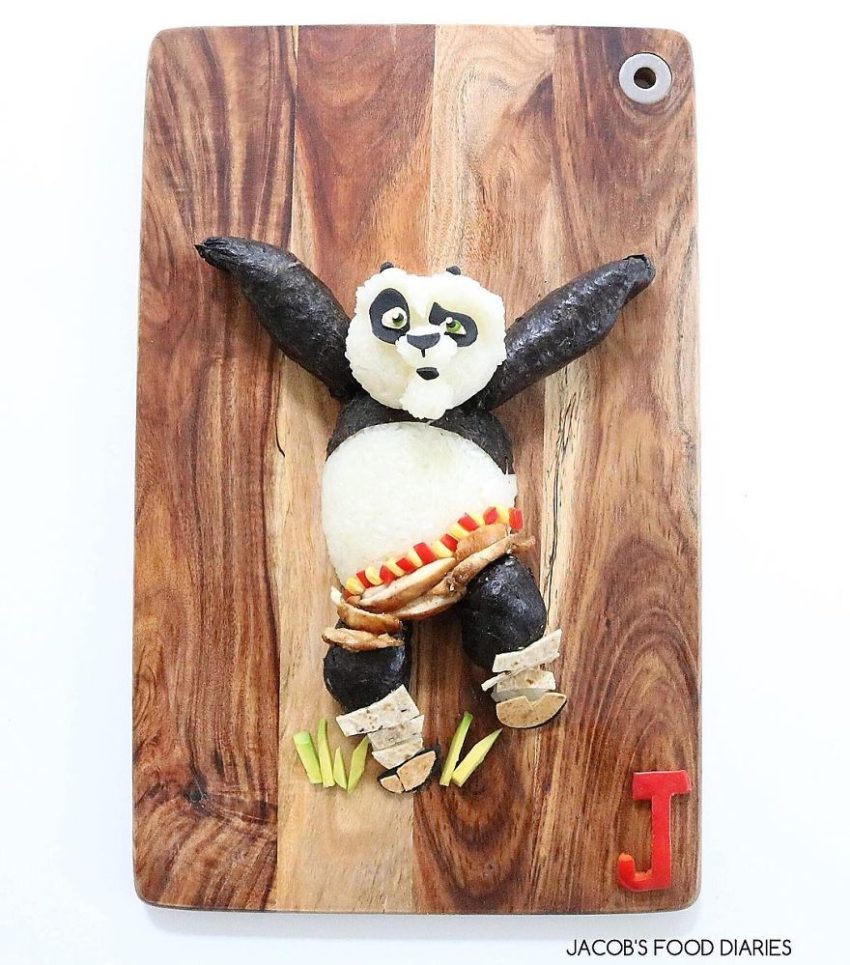 15. Stitch
Everyone loves a berry pie. But with Stitch's face on it? For that you need cream. The pie will look tasty either way.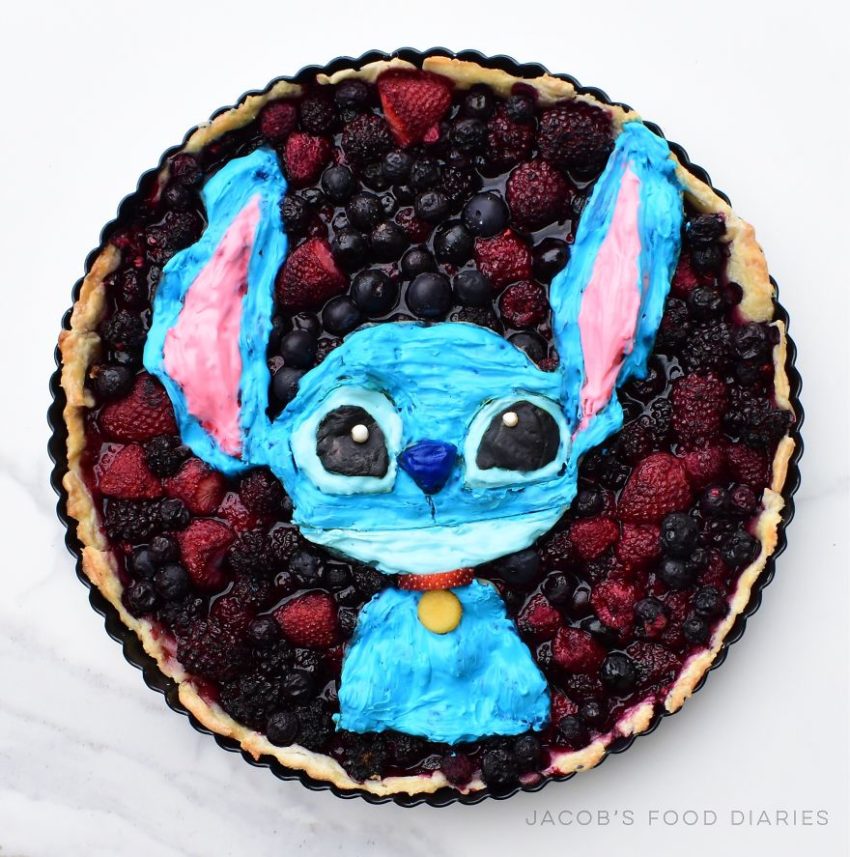 16. Anger – Inside Out
Inside Out is a remarkable cartoon and everyone's favorite emotion was definitely anger. We all feel this way sometimes, and you can have Anger as your launch on this occasion.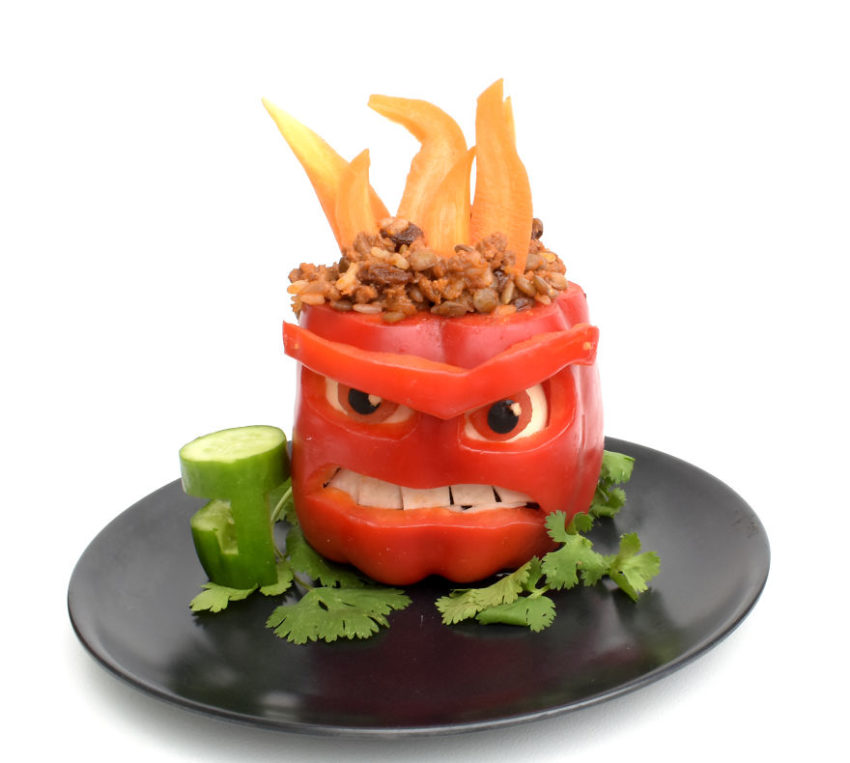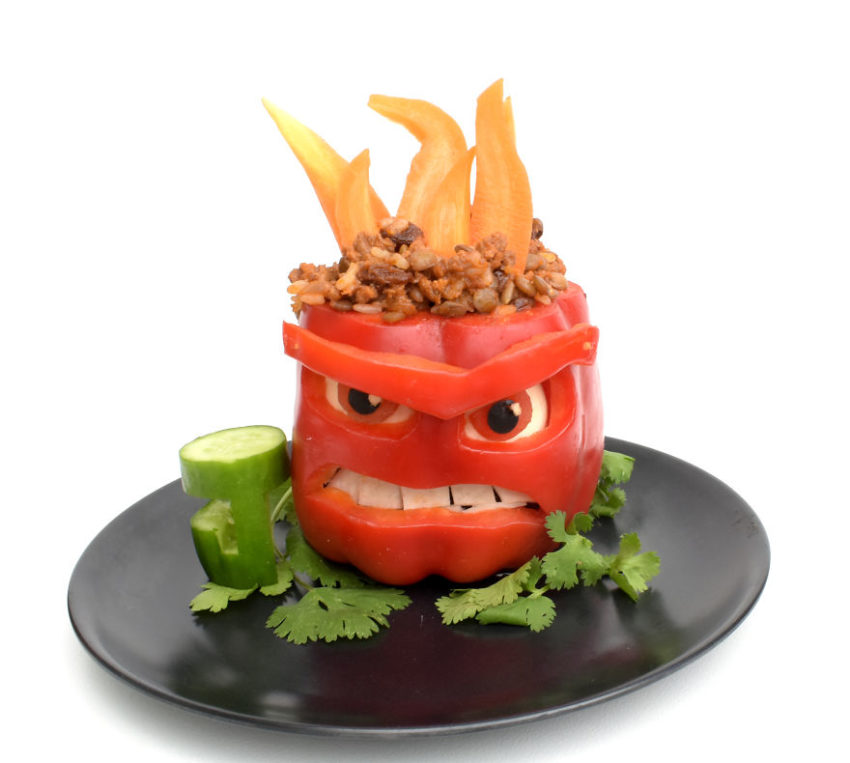 17. Shrek
To create delicious Shrek, you need spinach mash with free-range chicken, Medjool dates, chia seeds and wholemeal wrap.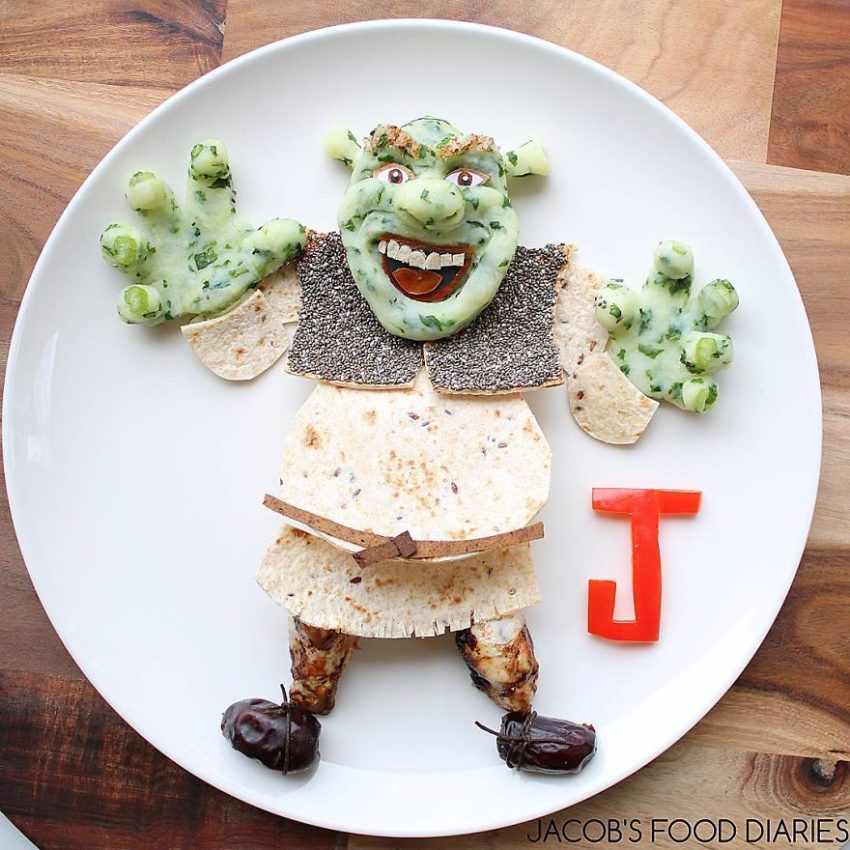 18. Chucky from The Rugrats
Just look at that facial expression! You could eat him.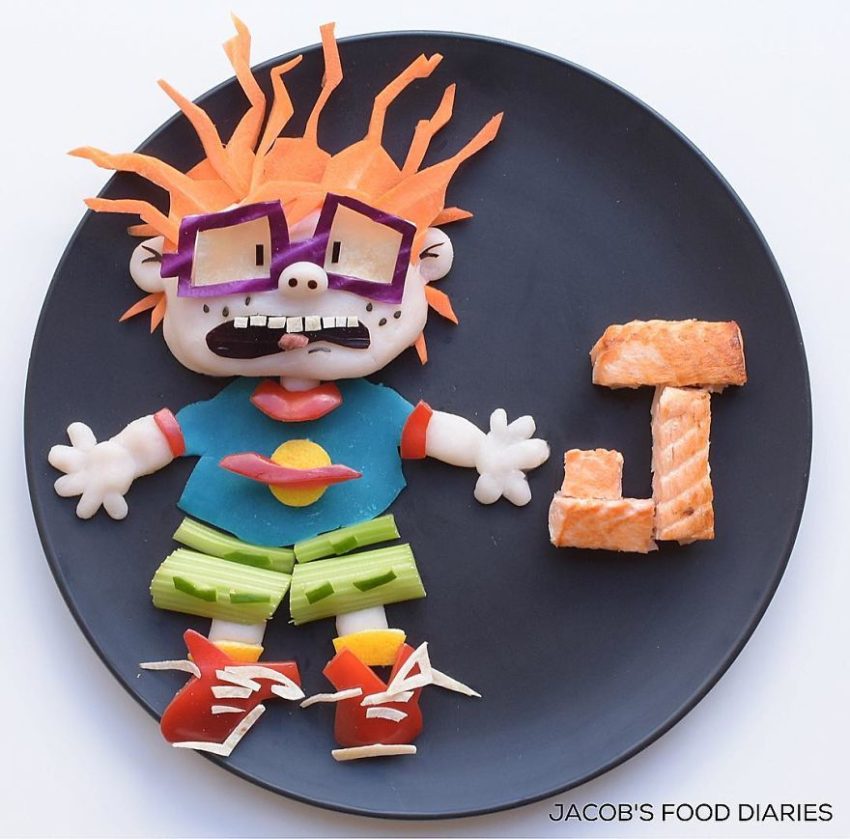 19. Flash – Zootopia
Zootopia had a wide range of memorable characters and Flash was definitely one of them. We suggest you enjoy this meal and eat it slowly.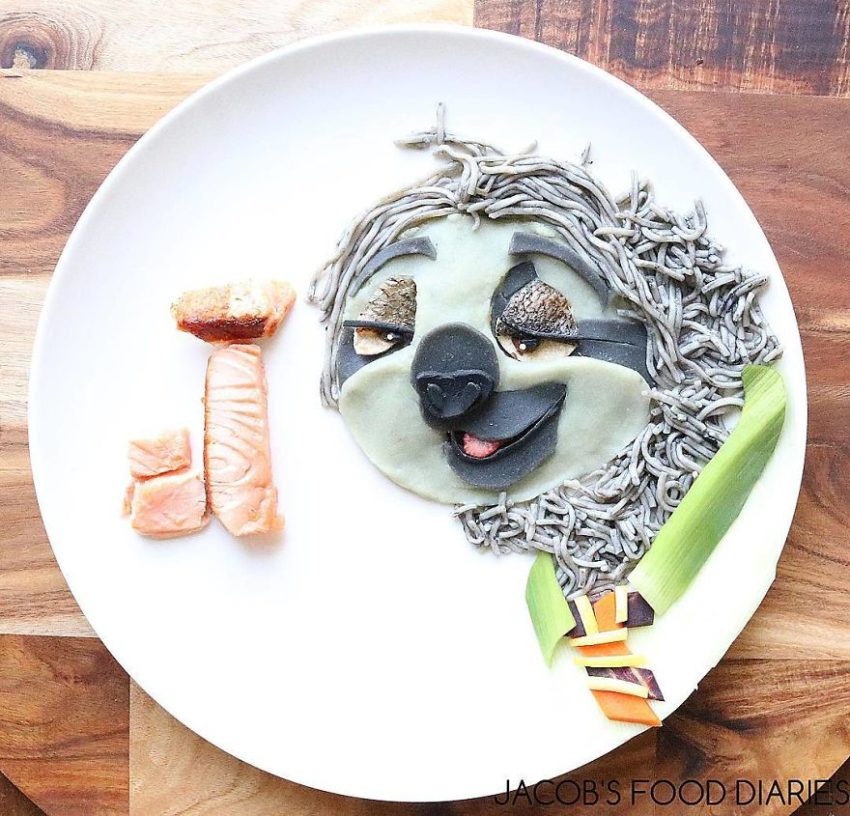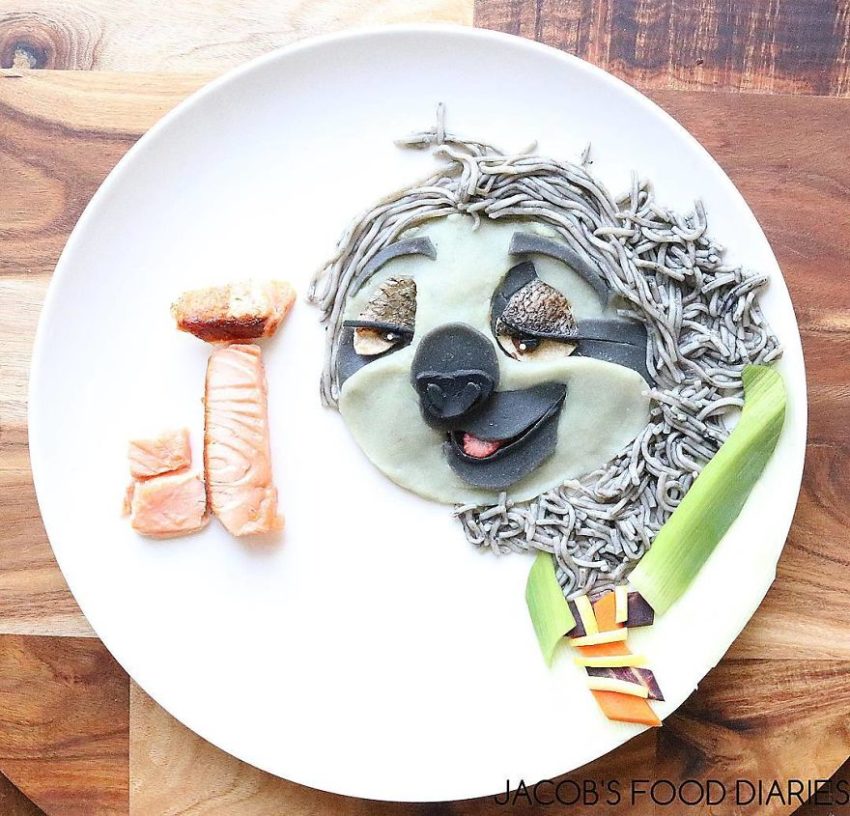 20. Piglet as Rudolf the Red Nosed Reindeer
What you need for this meal is chicken with potato mash dyed with beetroot, asparagus, and carrot. Oddly enough, there is no pork. Hm.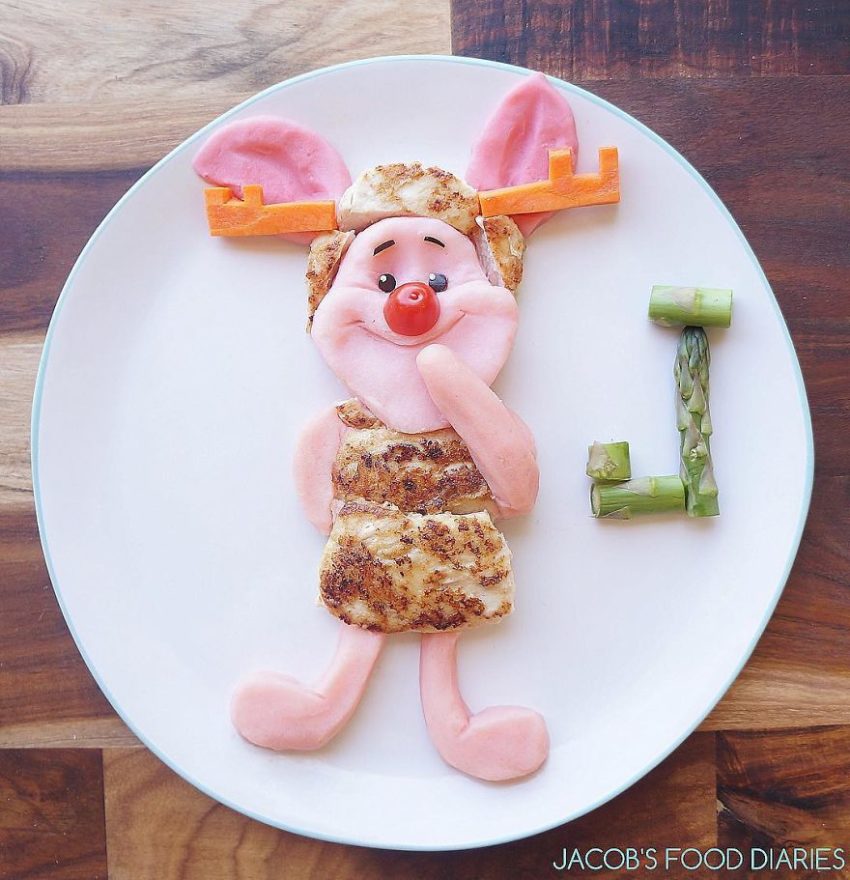 21. Brainy Smurf
It takes some time to shape the Smurf, but all you need for this dish are pancakes with bananas and apples.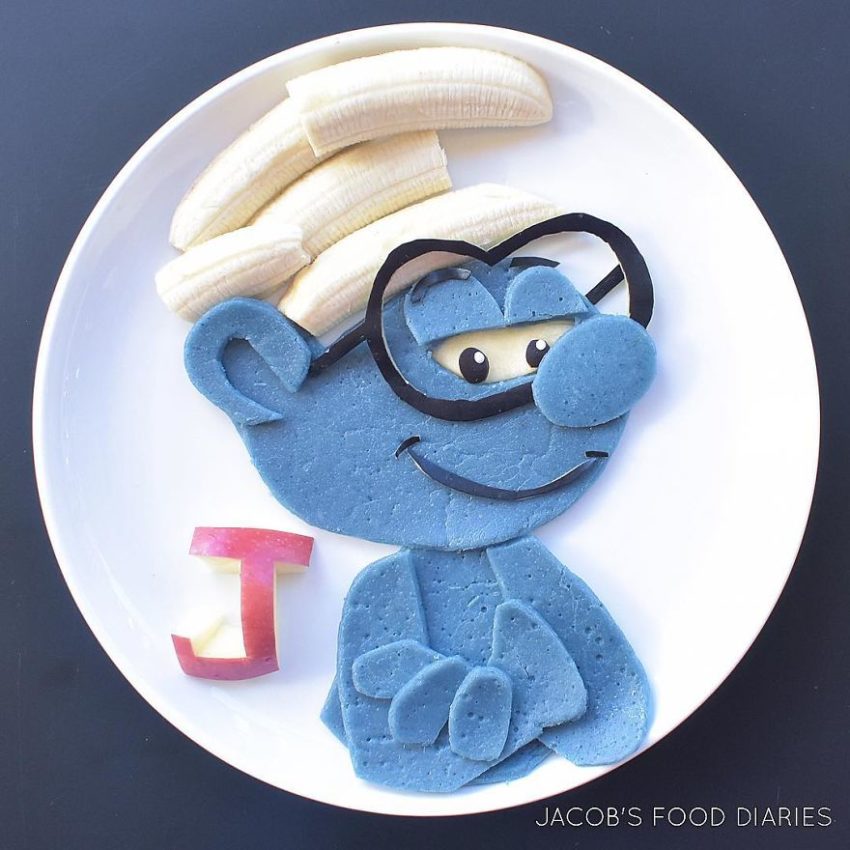 22. Bob the Minion
Bob the Minion looks happy enough and we expect him to start singing Banana Song any time now.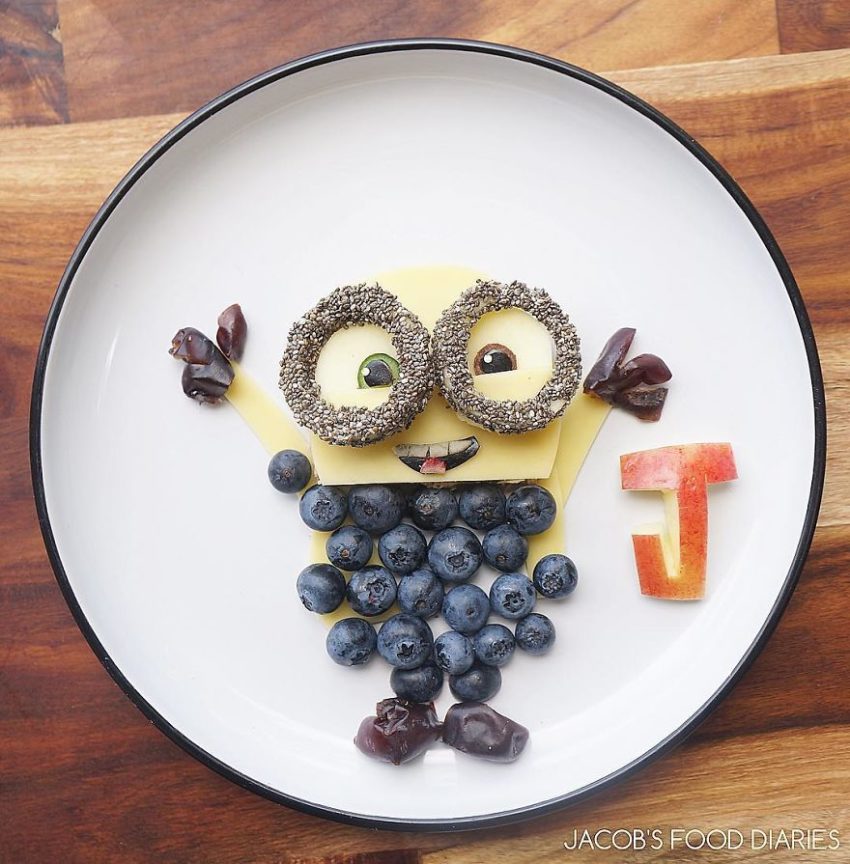 23. Guy Diamond
For this iconic character, you need Wild Australian Salmon, purple mash potato, peas, white chia seeds and enoki mushroom. Let's not forget about amazing cooking skills to make the shape.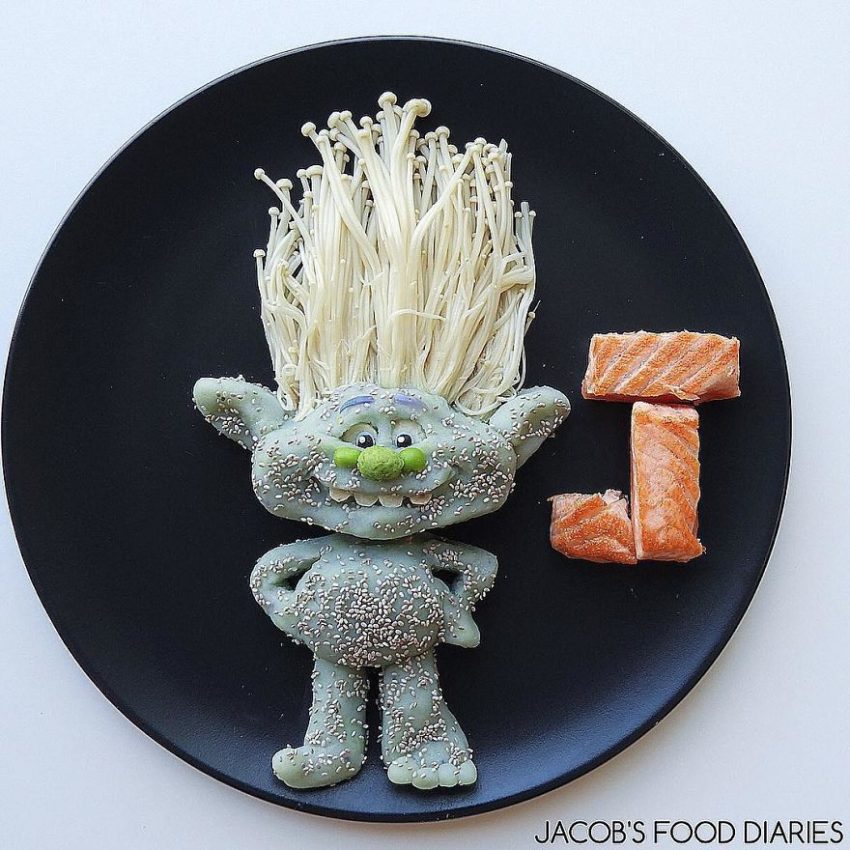 24. Rocket Racoon
Rocket Racoon is made of chicken with mash potato, wild rice, and capsicum.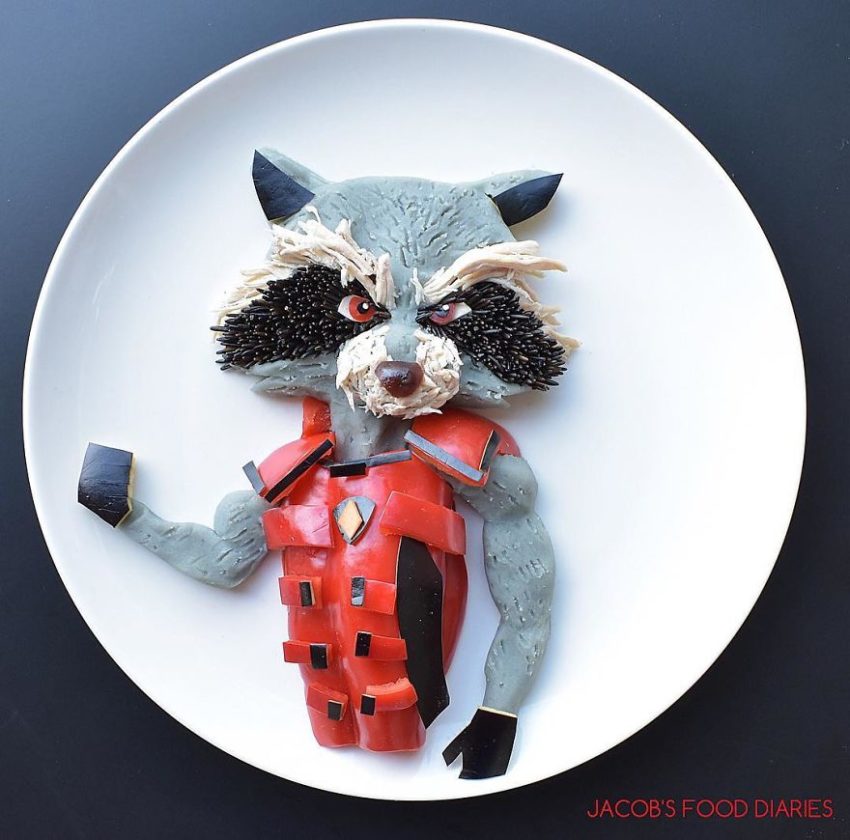 25. Toy Stor
Make your favorite Toy Story characters on a slice of bread. Don't put the bread into the toaster though.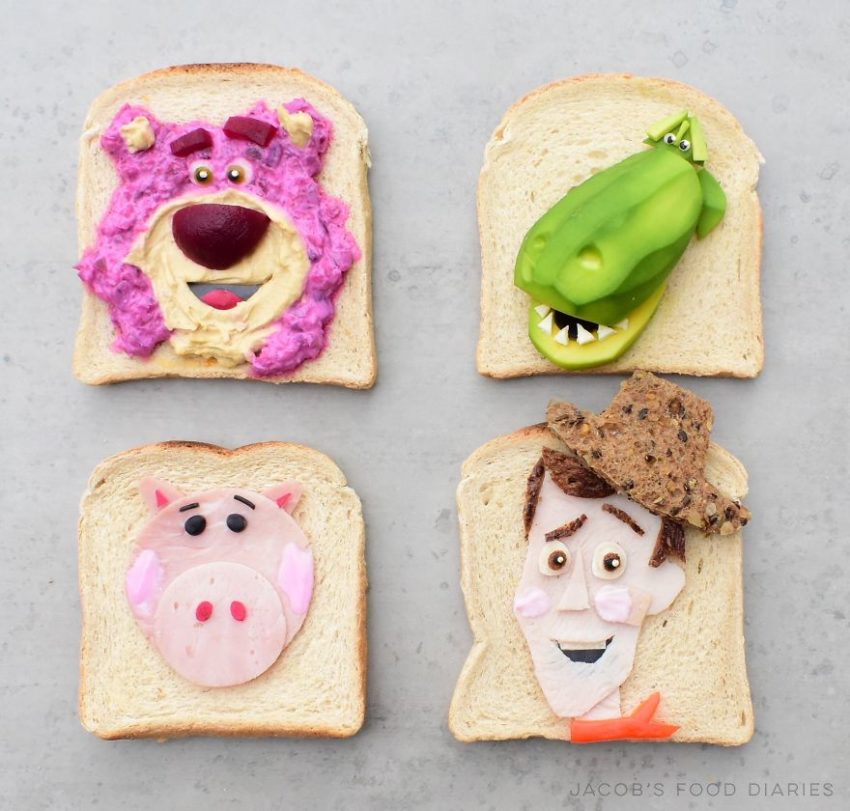 26. Maui – Moana
Moana was a fantastic cartoon, and demigod Maui definitely stole the show. Plus he was played by Dwayne The Rock Johnson, and now he is on the plate, ready to be eaten.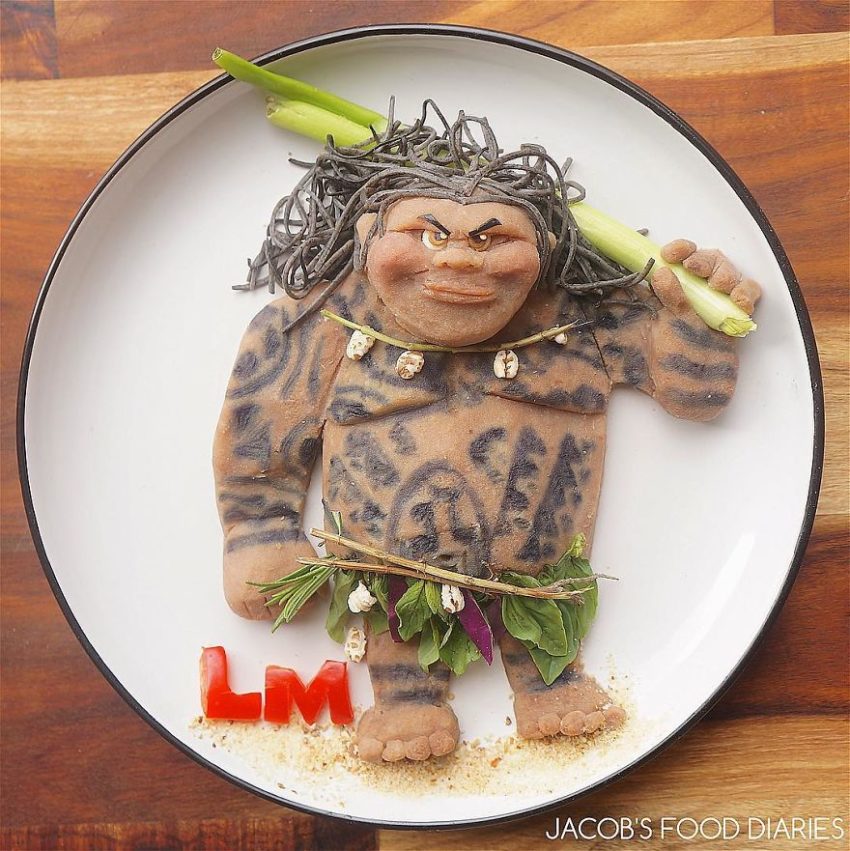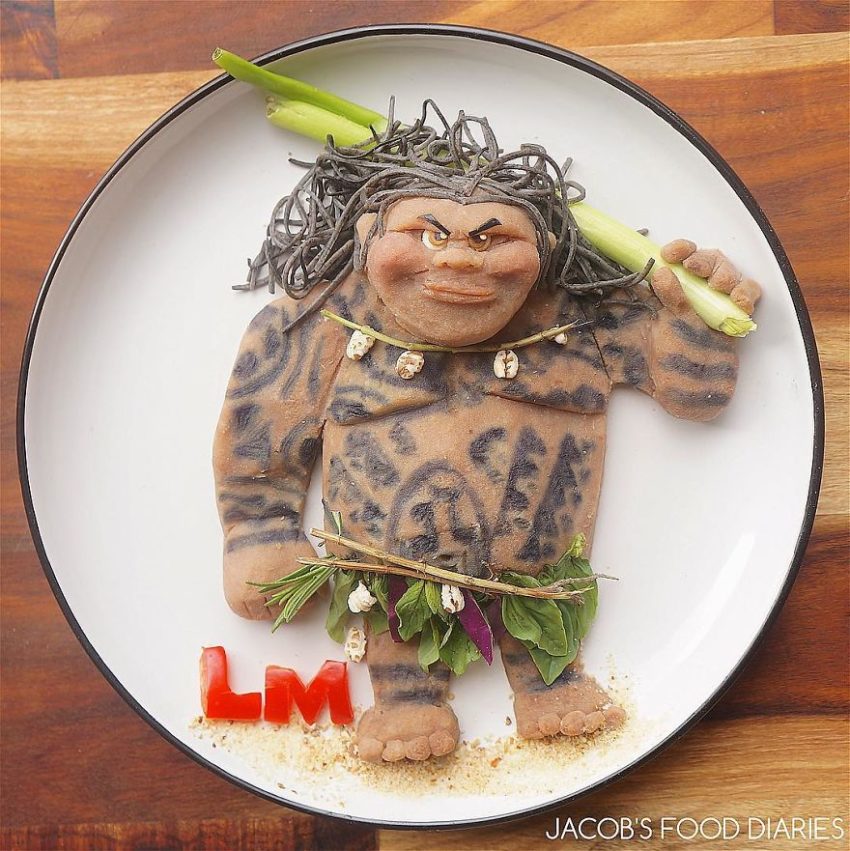 27. Bing Bong – Inside Out
Get ready for the endeavor in your kitchen. Make Chicken Kotlet (Iranian dish – free-range chicken mince, carrots and sweet potato) and add mash potato and vegetables.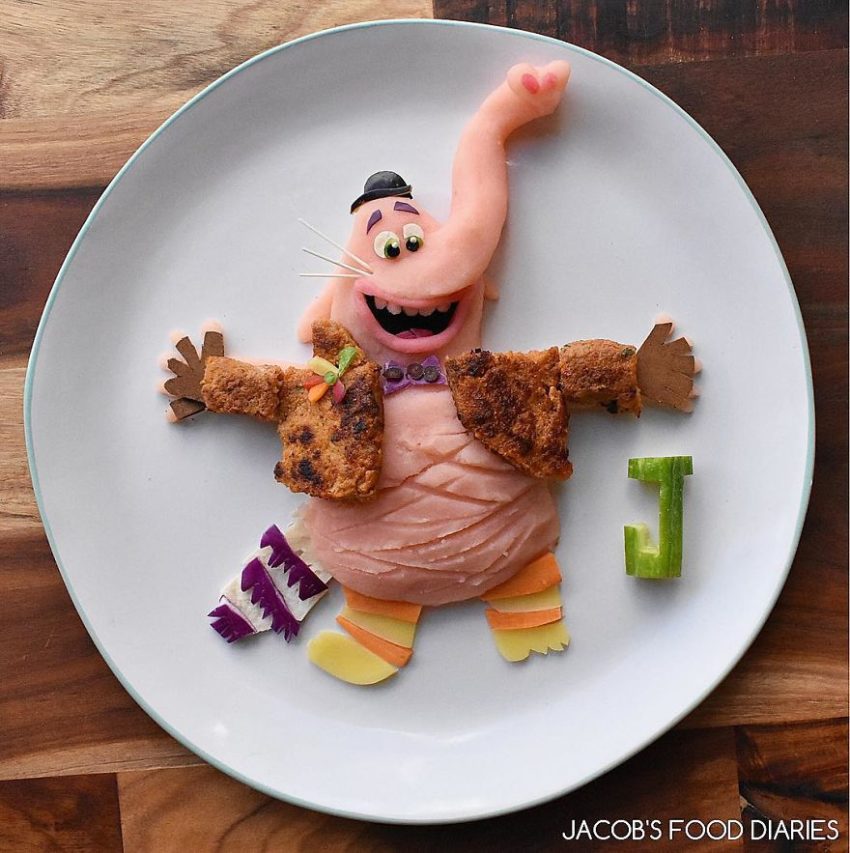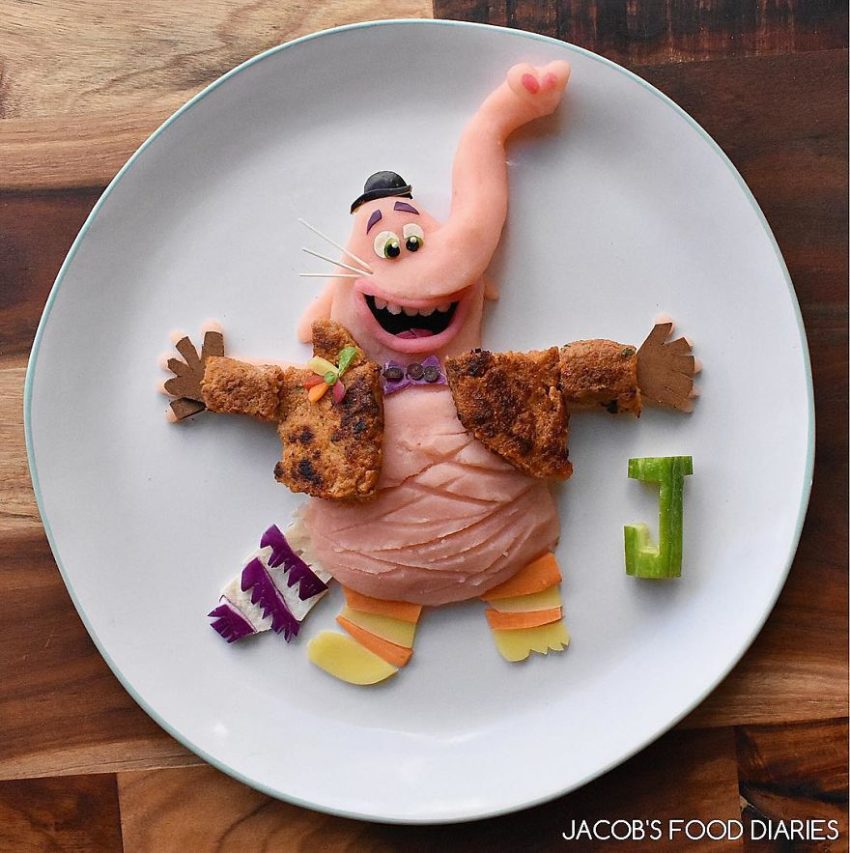 28. Minnie Mouse
Definitely one of the most beautiful creations is Minnie Mouse. The attention to detail is just outstanding.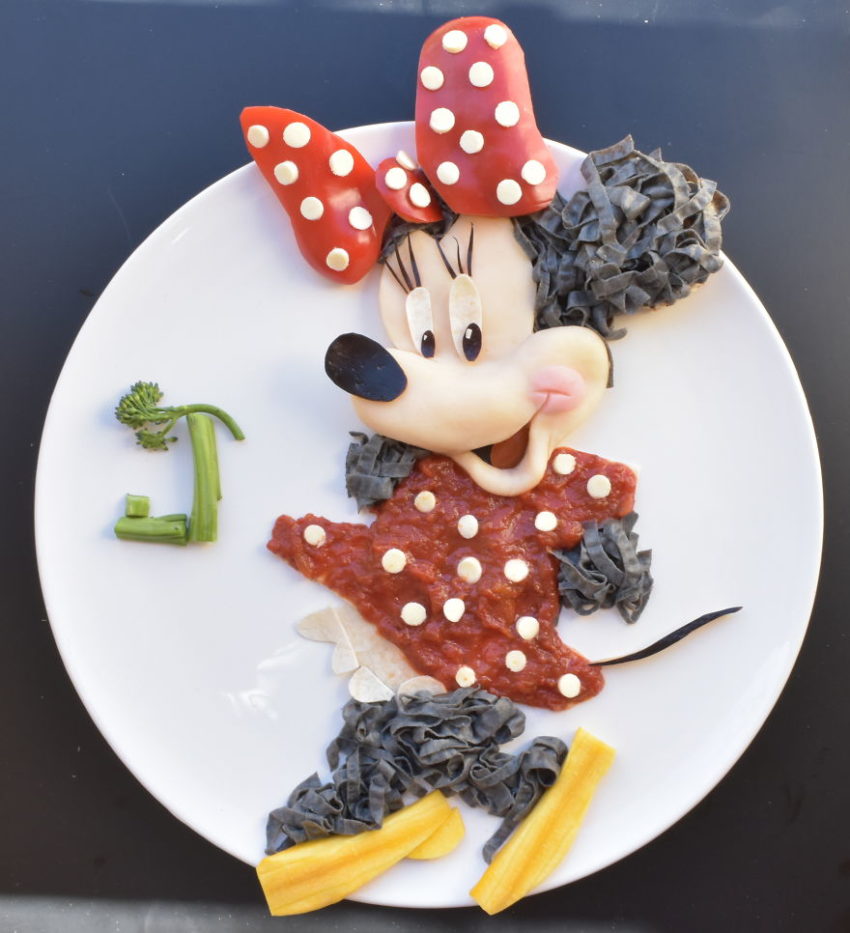 29. Cogsworth – Beauty and The Beast
Did the time stop? Cogsworth might tell you!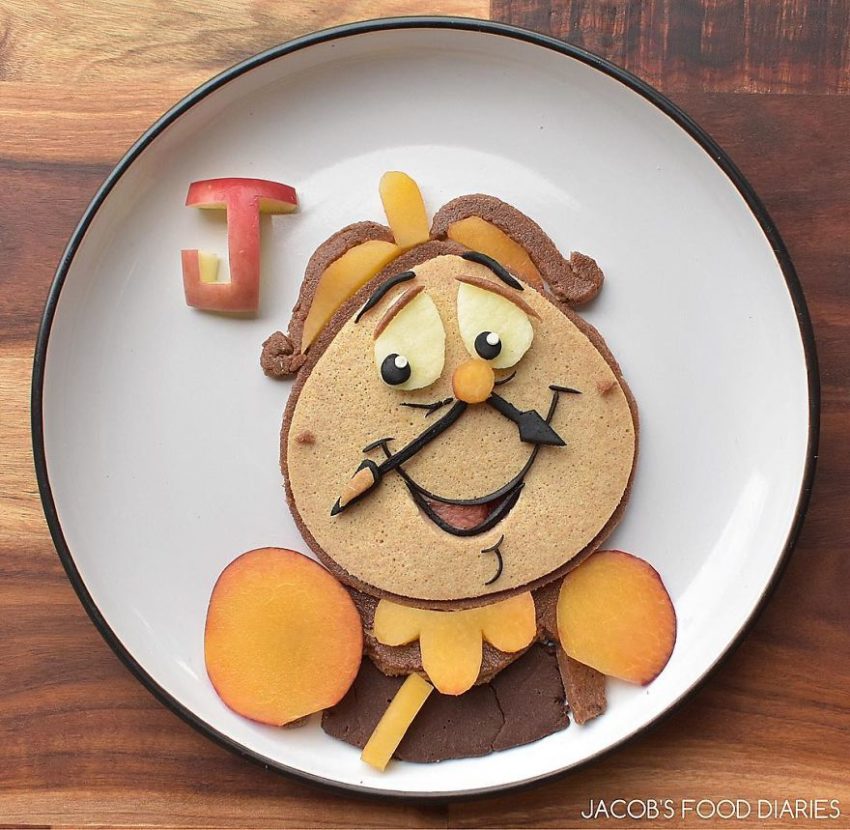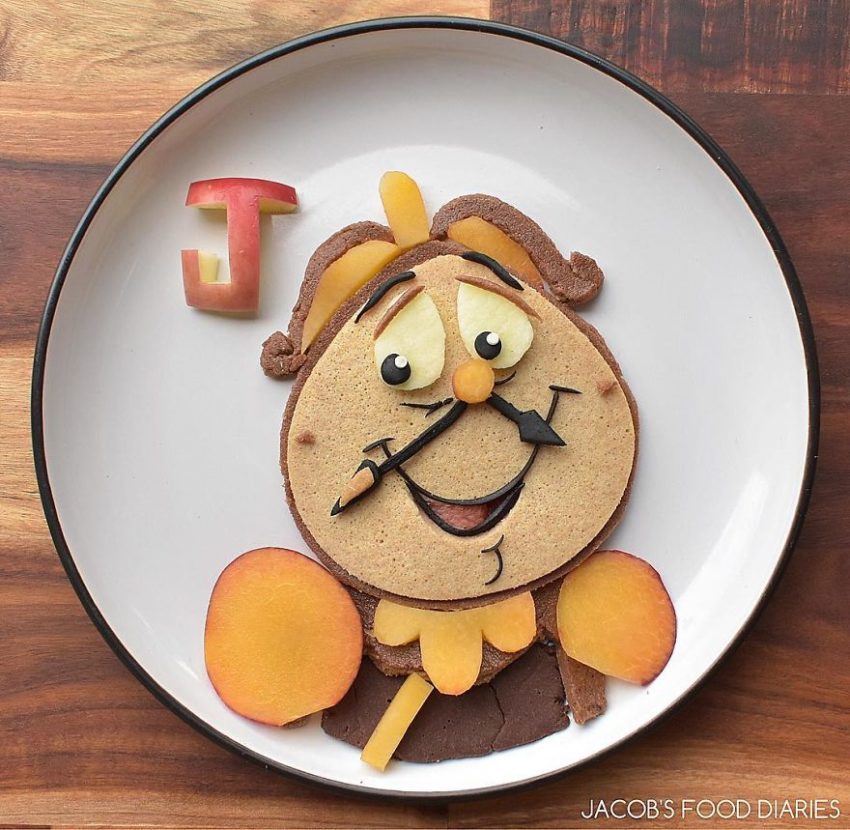 30. Minion
Minions are definitely too popular, and they have been favorite characters of many fans around the world. You can prepare the minion-shaped dish in multiple ways, but for this particular minion, quinoa salad with Wild Australian salmon was used together with saffron mash potato.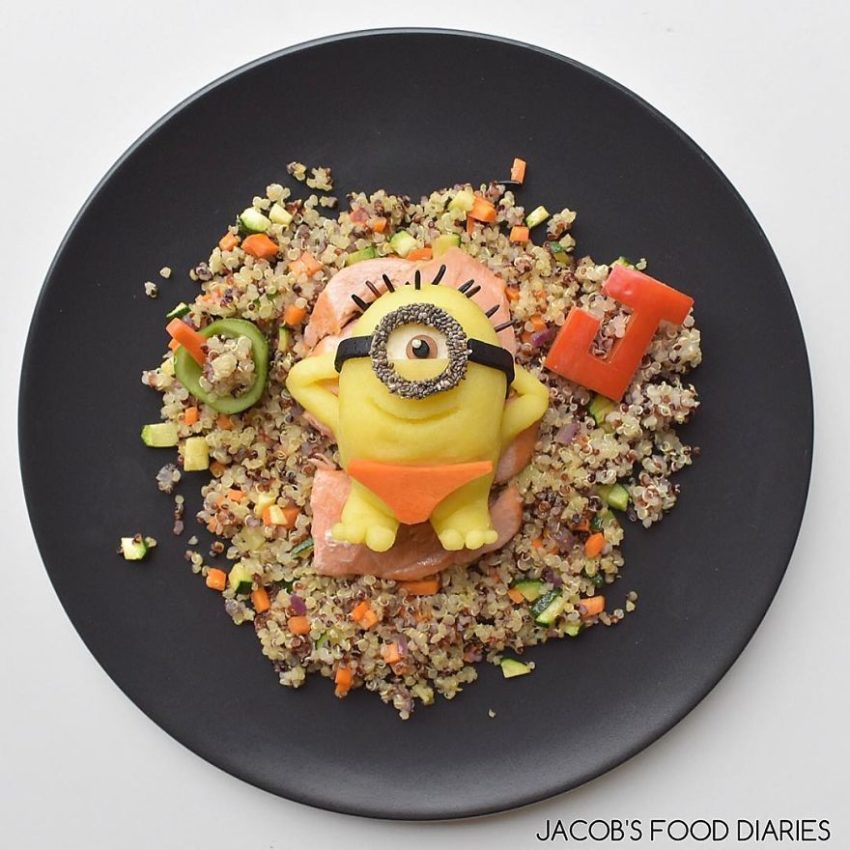 31. Angelica Pickles
Although personally, Angelica is not my favorite character, we have to give props to the maker of this dish. It looks just like a cartoon.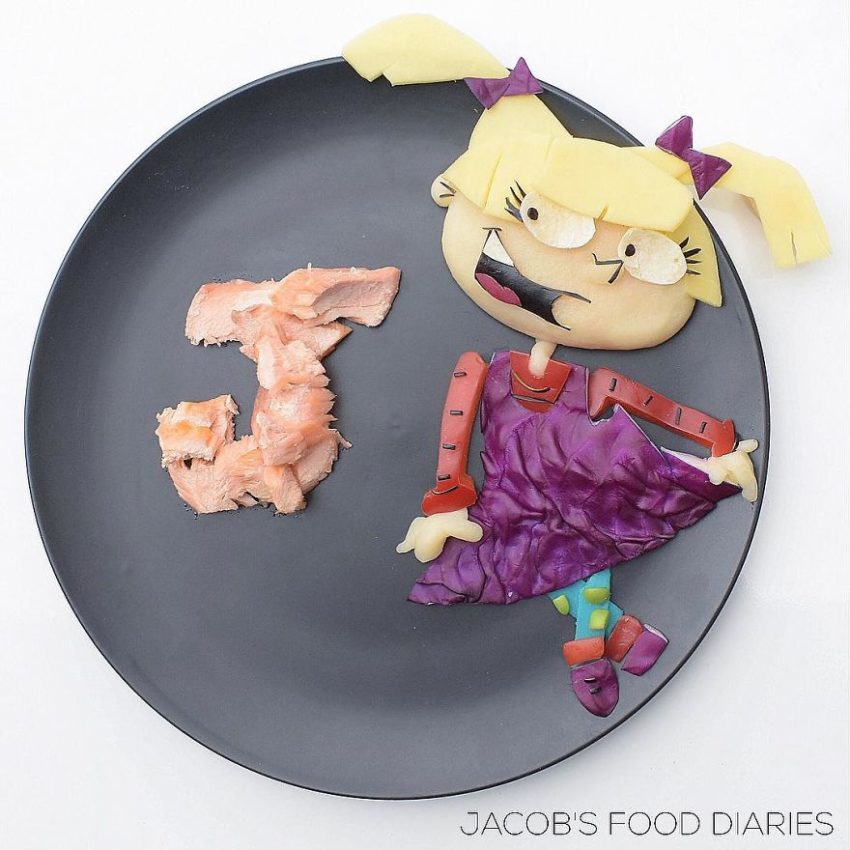 32. Miguel – Coco
Wholemeal wrap with cream cheese, black sesame seeds and red capsicum and there you have it. Hello Miguel.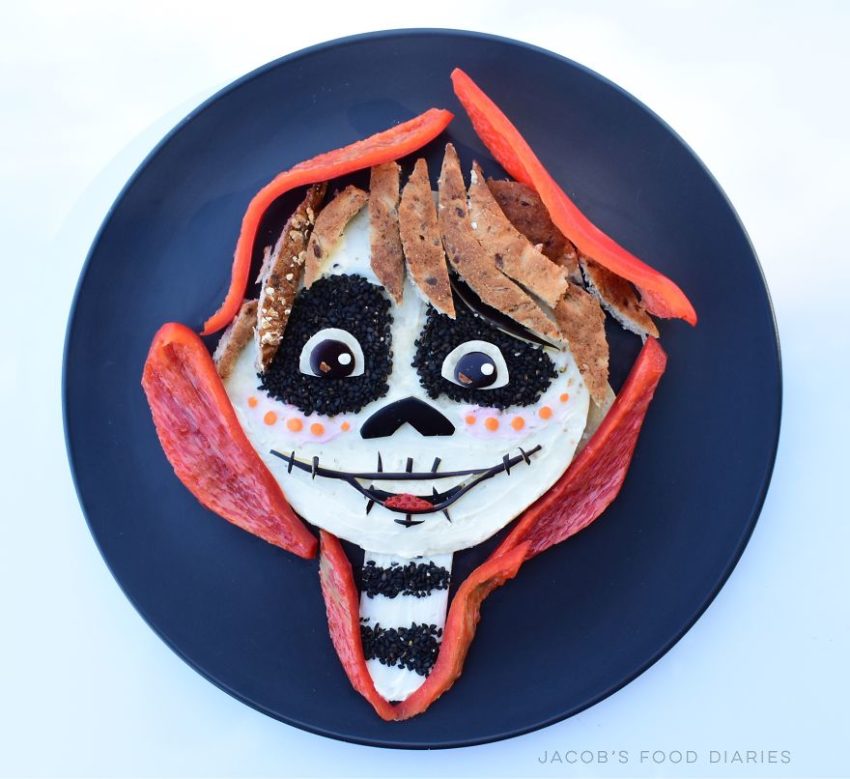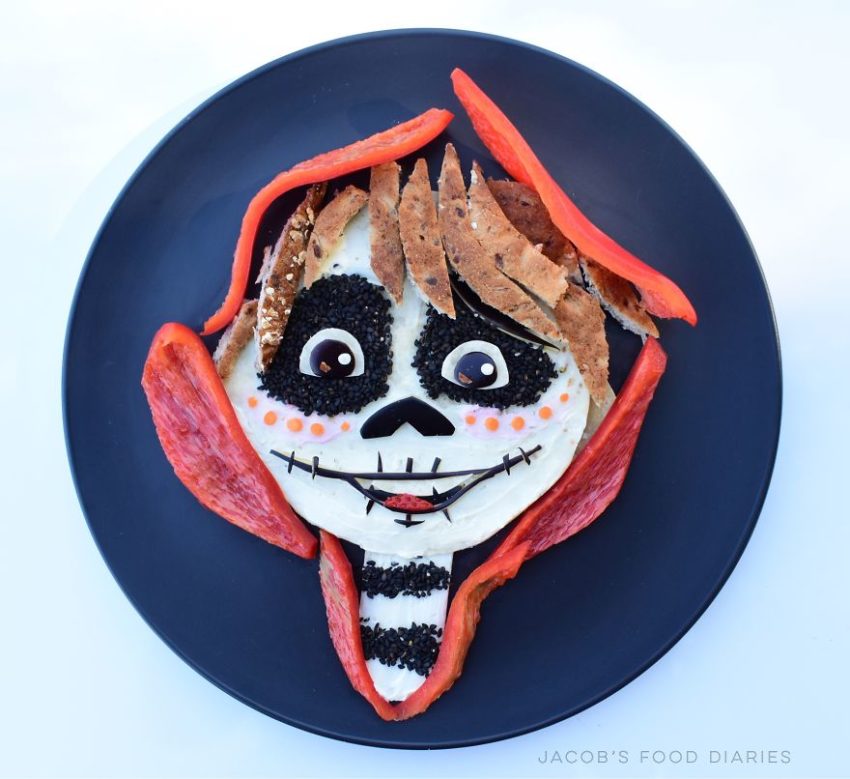 33. Spongebob Squarepants
There is another way to make Spongebob. This time use waffles for the body, coconut, raspberries, and blueberries. I prefer this Spongebob meal to the one above.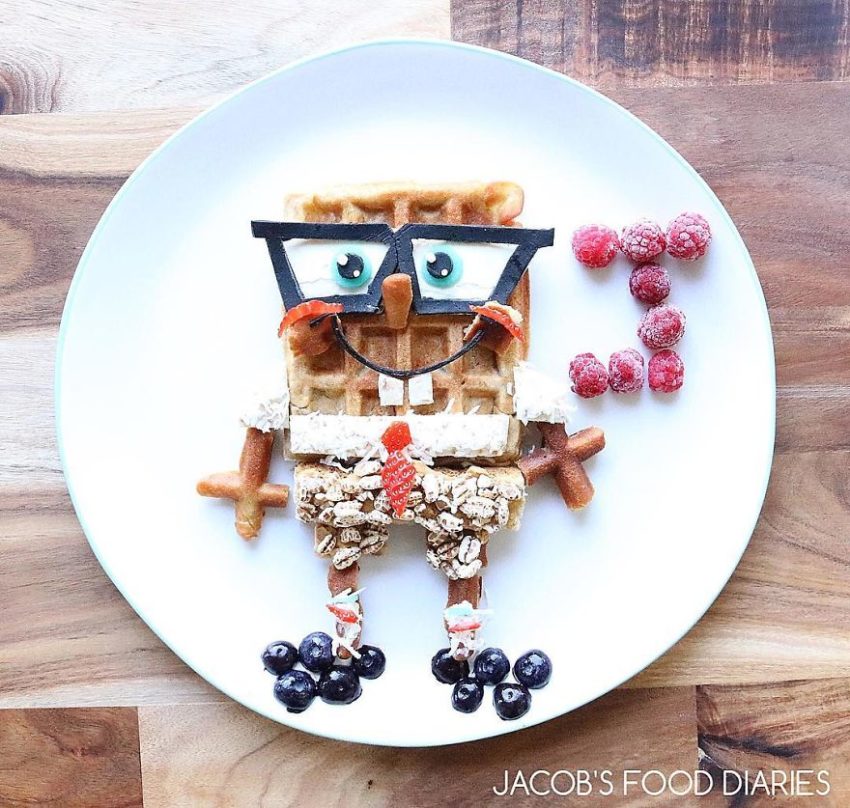 34. Pi – Gnocchi – O
The name speaks for itself.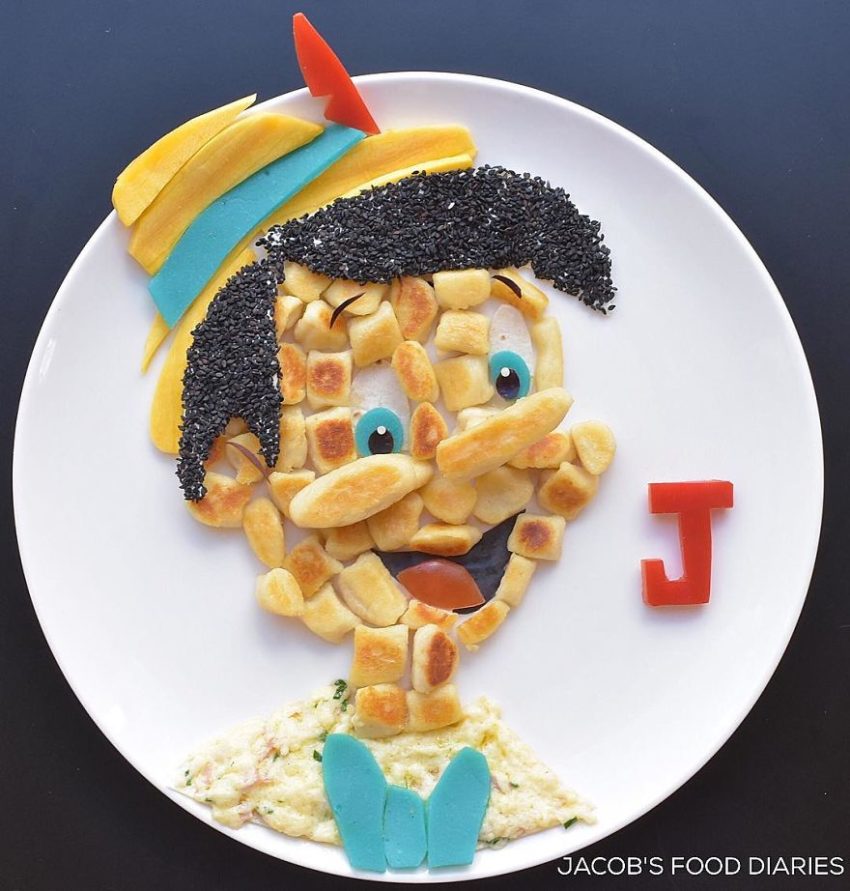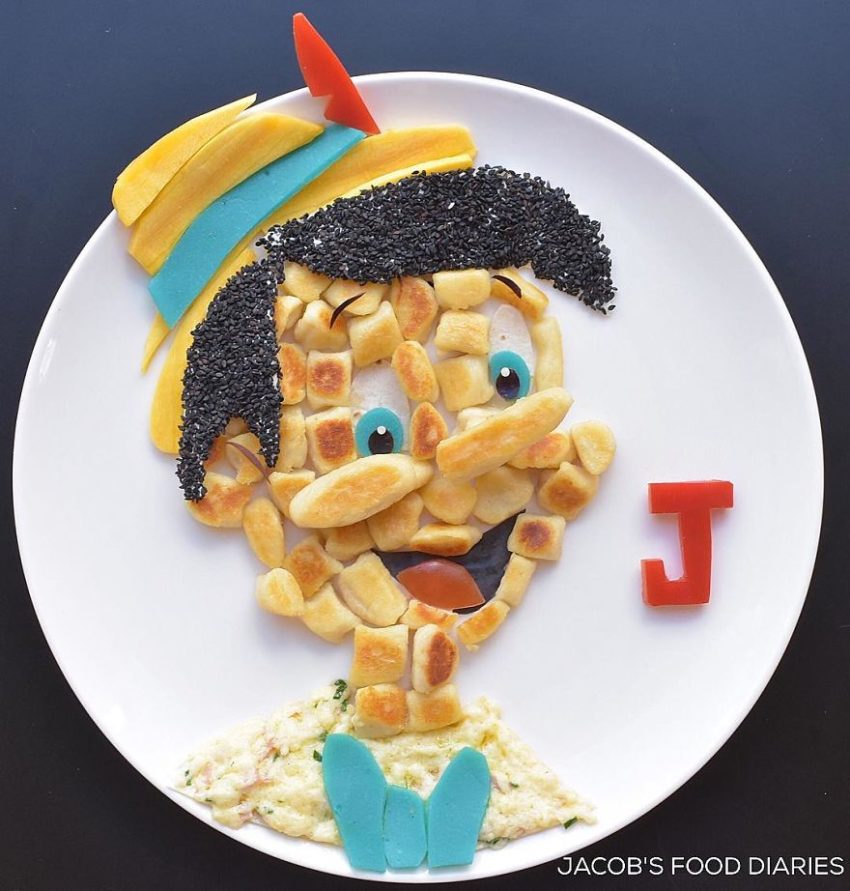 35. Yosemite Sam
For the bearded cartoon character, you need Wild Australian Salmon, baked sweet potato, red capsicum, wholemeal wrap and yellow cucumber.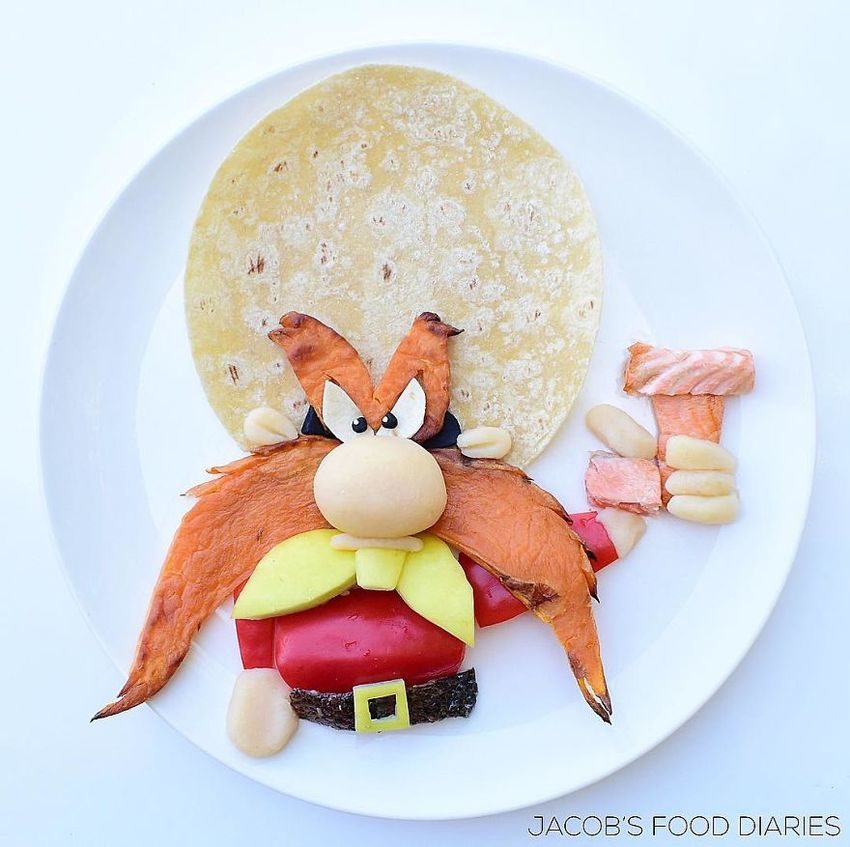 36. Roze
This is pure gold. Don't tell me that this character on your plate doesn't inspire you to get up and run away. It is made with veal ravioli, Napoli, and mushroom sauce.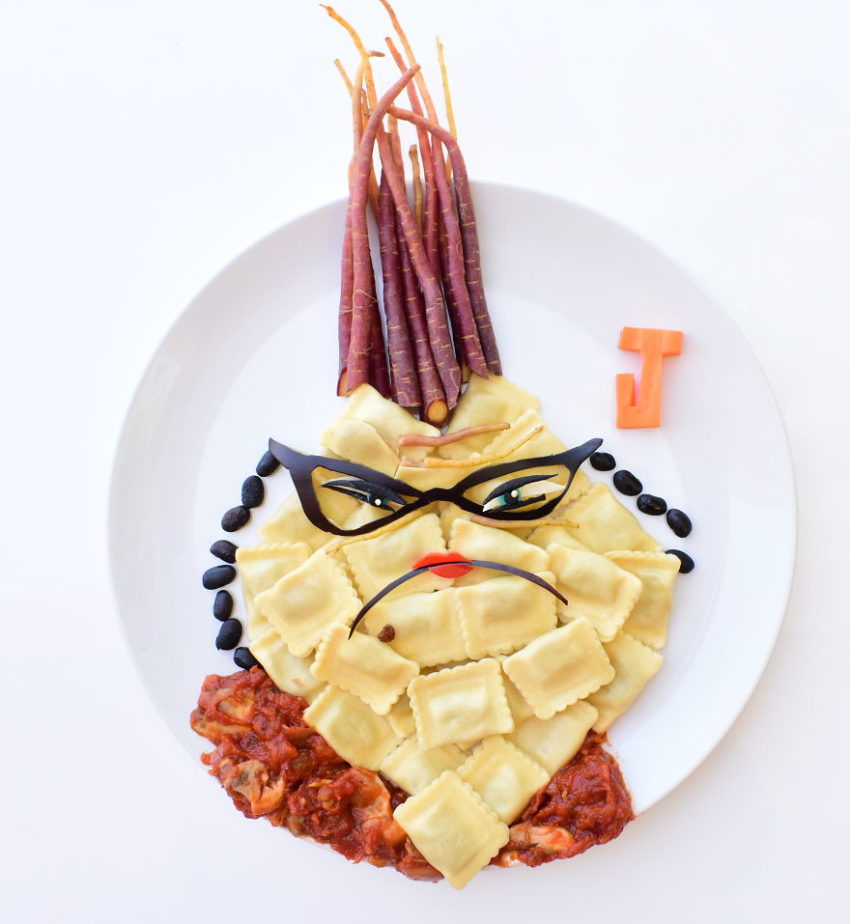 37. Lumiere – Beauty and the Beast
Add some light to your meals and what better way to do it than with Lumiere. It is a fantastic character from one of the most popular cartoons ever. And in this case, we bet it is delicious. It is made with John Dory, mash potato, tomatoes, carrots, and broccolini.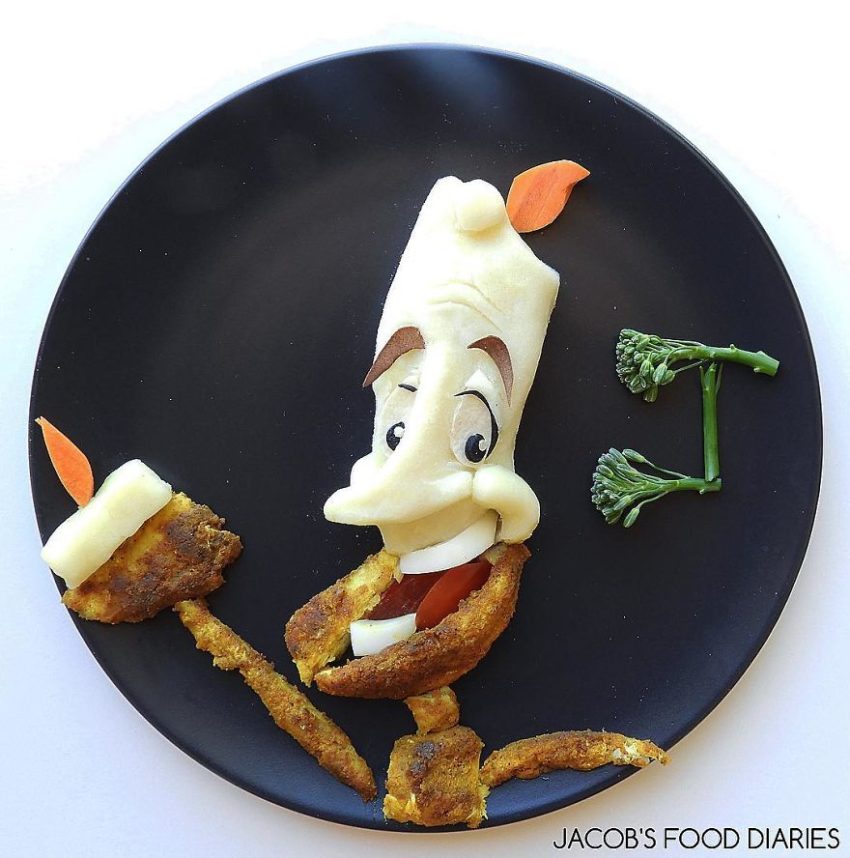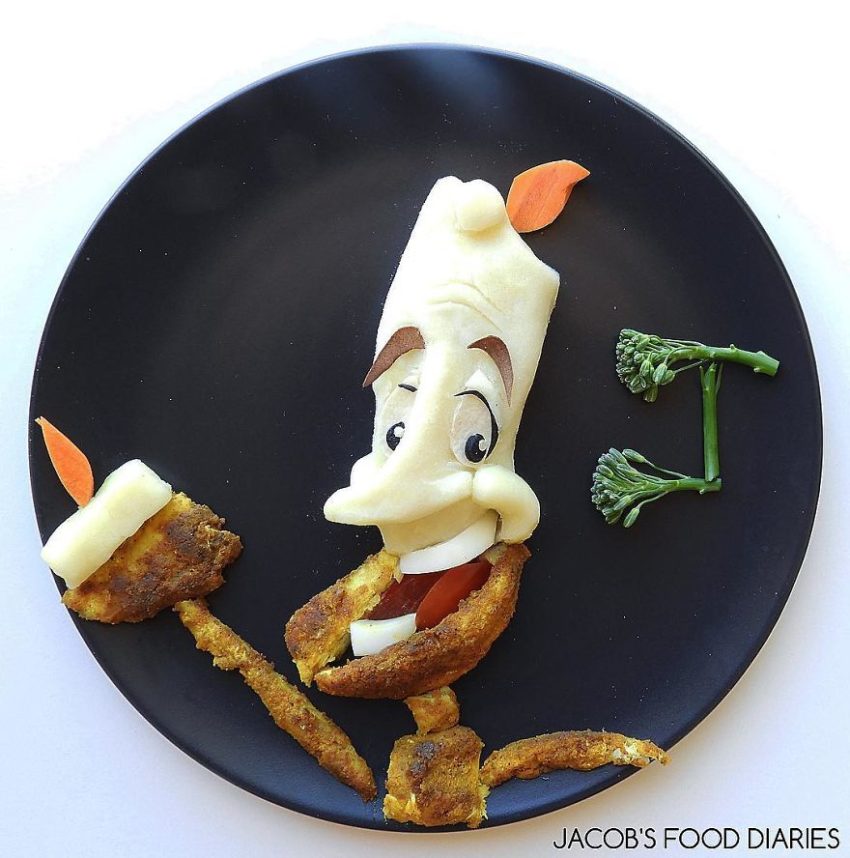 38. Patrick from Spongebob Squarepants
If you don't like the sushi Patrick, perhaps this bitter one will be more to your taste. It is made with pink grapefruit, grapes, green beans, and cheese.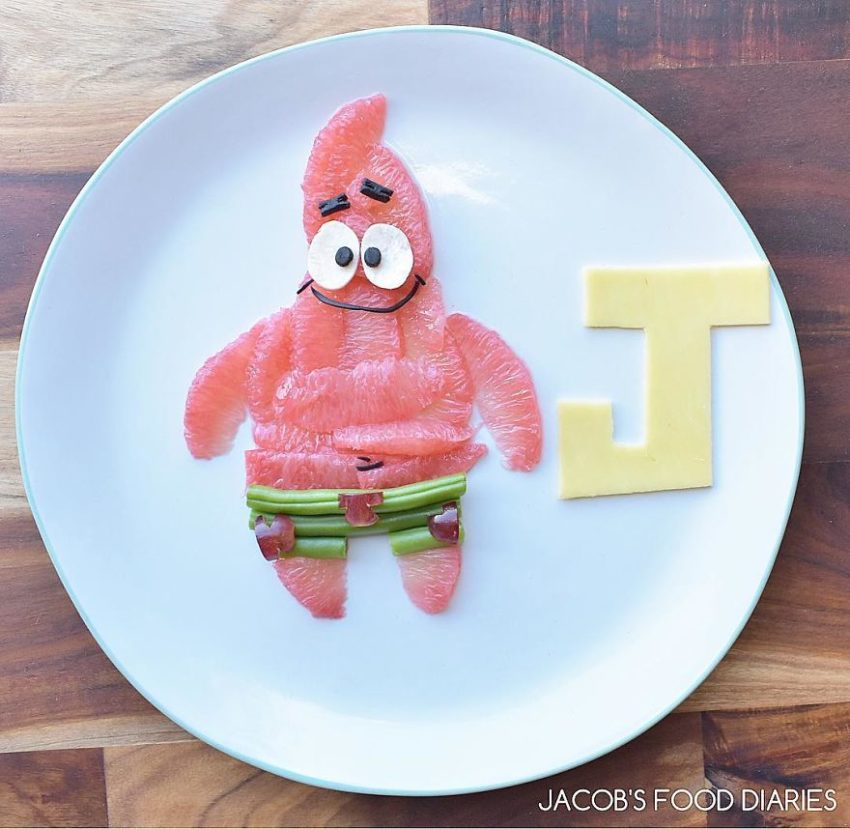 39. Hulk
If you want to be strong like Hulk, you will have to eat Spinach. Guess what the Hulk on this plate is made with. Besides spinach, cabbage is used for its pants.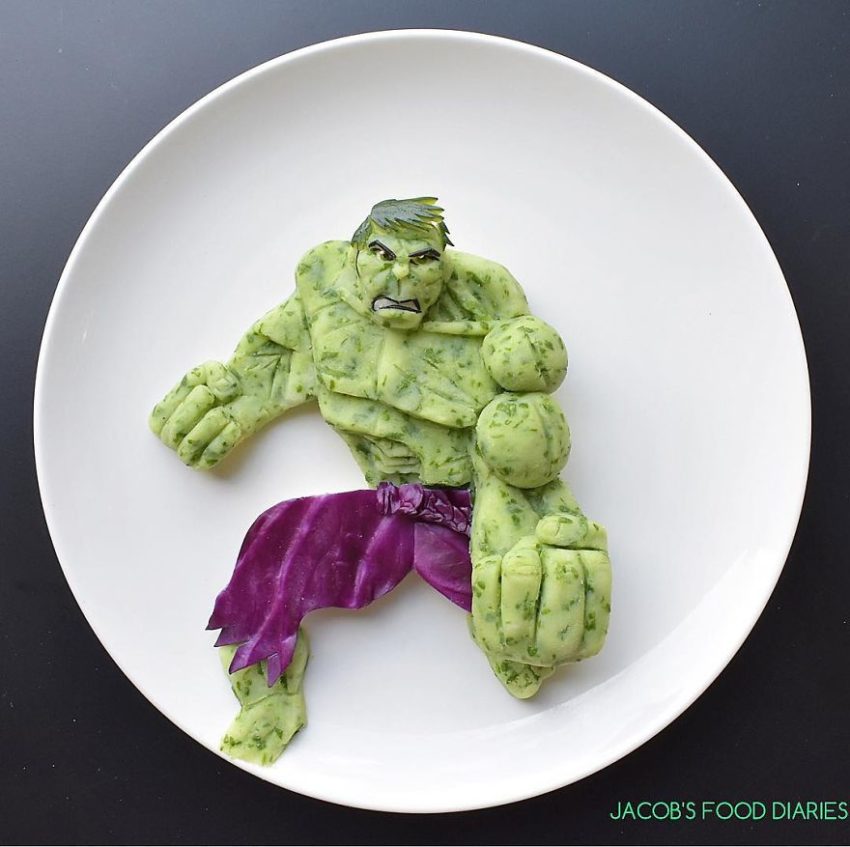 40. Mike Wazowski – Monsters Inc
Just put avocado and an organic egg on toast, and there you have it. Everyone can make this character!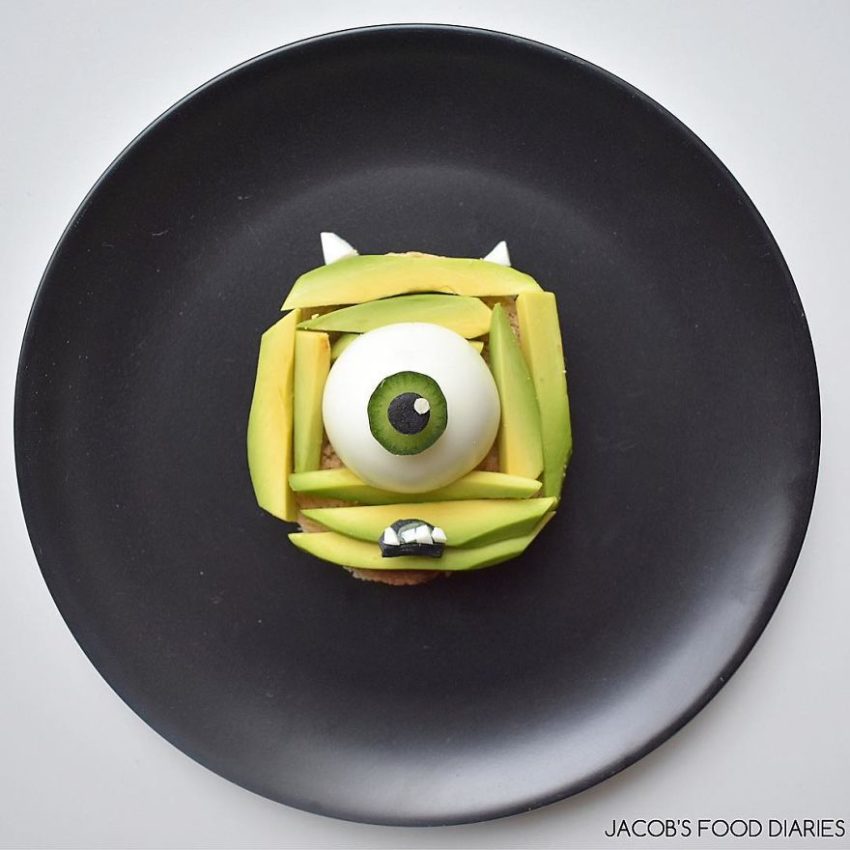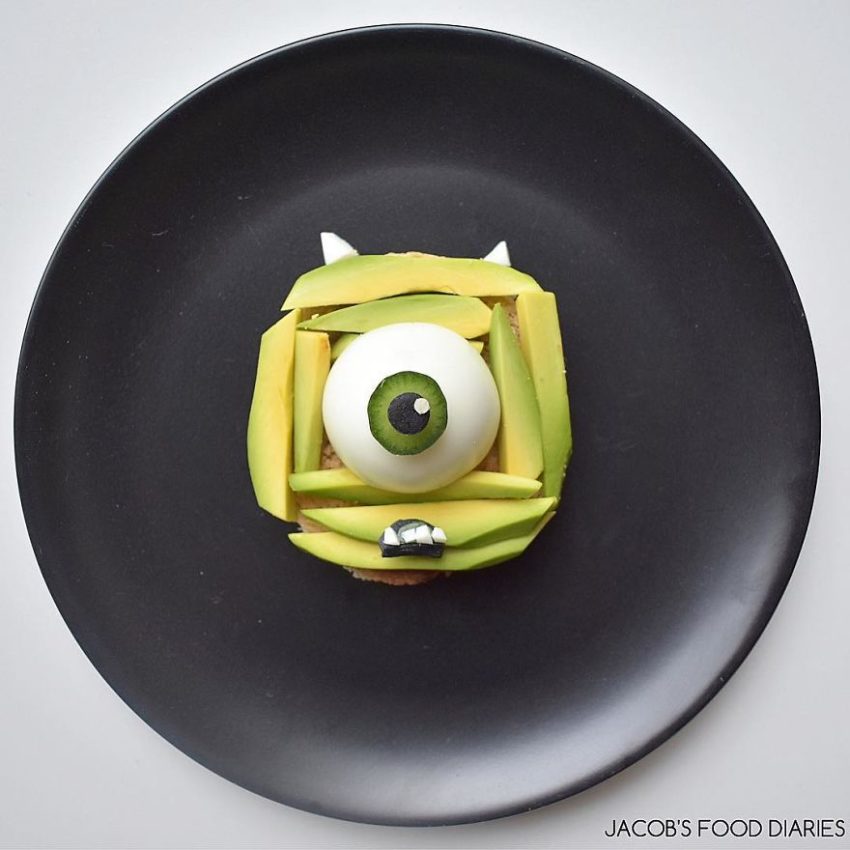 41. Linus – The Peanut Gang
Linus is an iconic cartoon character. This version of Linus has honey soy, chicken, mash potato, and vegetables.
Did you like this collection of cartoon characters on a plate? Is there someone who is missing and you would like to see. Personally, Wile E. Coyote would be an idea.