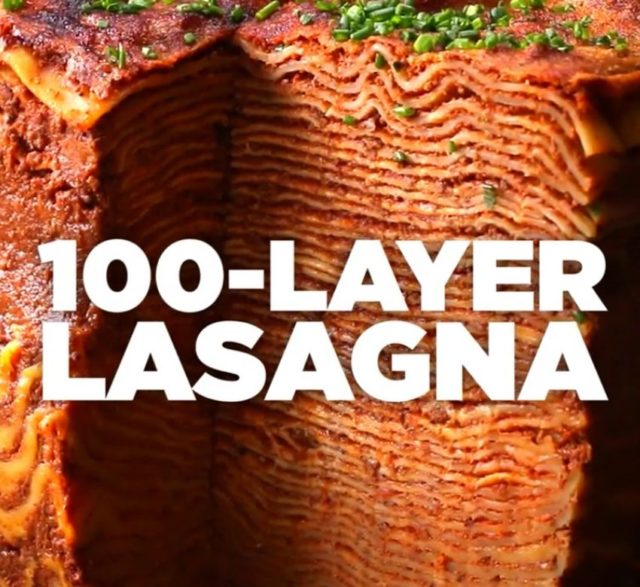 Have you ever thought about making 100-layer lasagna? If you decide to give it a try, here's the best recipe for this delicious dish.
Ingredients (for 20 servings)
BÉCHAMEL SAUCE
1 stick butter
½ cup (60 g) flour
8 cups (1.9 L) milk
2 teaspoons salt
1 teaspoon black pepper
½ teaspoon nutmeg
MEAT SAUCE
½ cup (120 mL) olive oil
2 cups (300 g) onion, finely chopped
2 cups (240 g) carrot, finely chopped
2 cups (450 g) celery, finely chopped
6 lb (2.7 kg) ground beef, 80% lean 20% fat
28 oz (795 g) tomato sauce, 4 cans
½ cup (110 g) tomato paste
4 cups (945 mL) chicken stock
1 teaspoon salt
½ tablespoon black pepper
108 no-boil flat lasagna noodles
2 cups (230 g) grated parmesan cheese
1 cup (40 g) fresh chives, finely chopped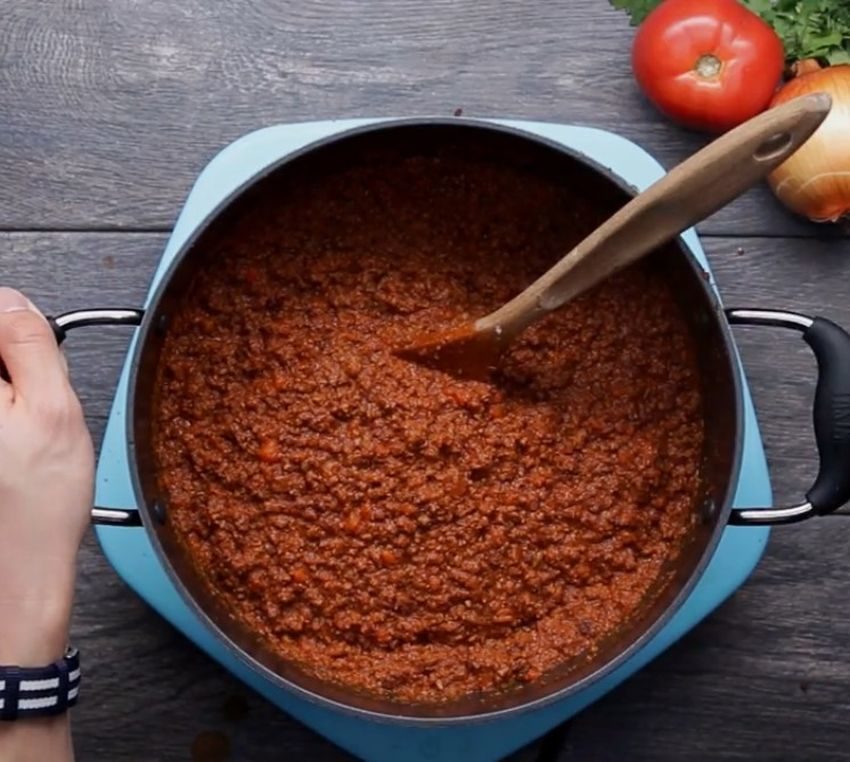 And now, let's move on to preparation:
1. First things first – preheat your oven to 350°F (180°C).
2. You will need about 6 feet (1.8 meters) of tinfoil to lay it on a flat surface. Take 4 clusters of 2 lasagna noodles and place them towards the left half of the foil sheet; make sure you leave about a ½-inch (1 cm) gap between each cluster.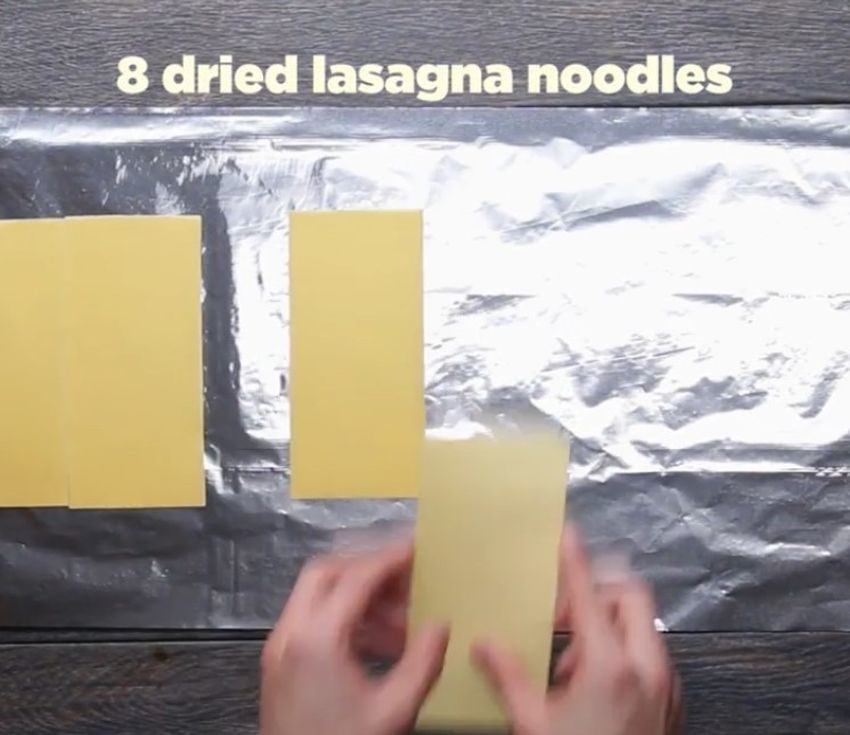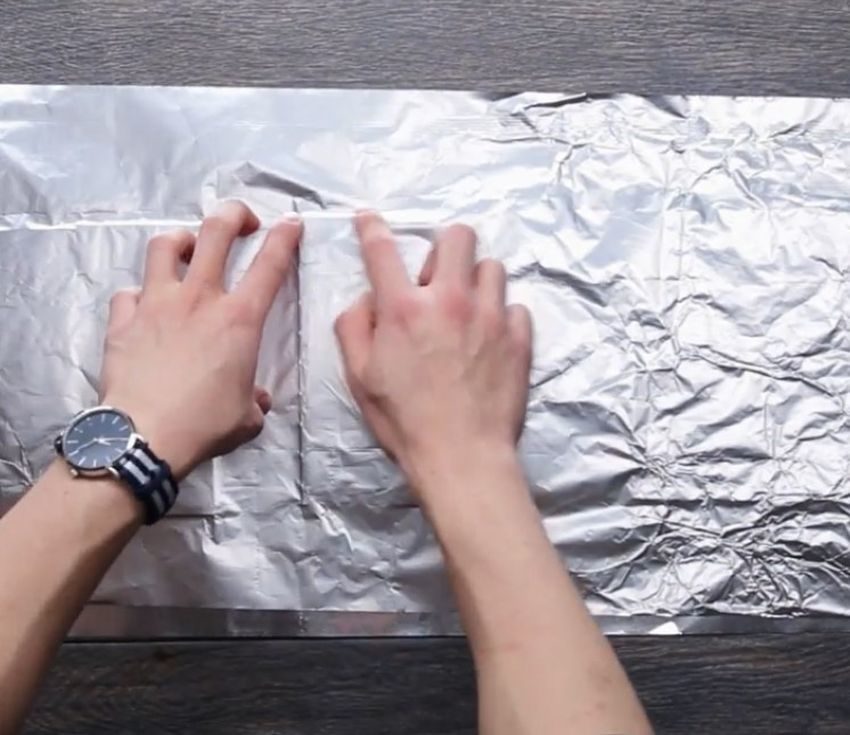 3. Take the right half of foil to press it flat over the noodles. Then, run your finger along the edges of the noodles, which will create a rough outline in the foil and help you know where the noodles are.
4. Fold the top and bottom flaps of foil over; press flat.
5. Arrange the foil into a square box, using the 4 groups of noodles as a visual guide. Fold and join the ends together.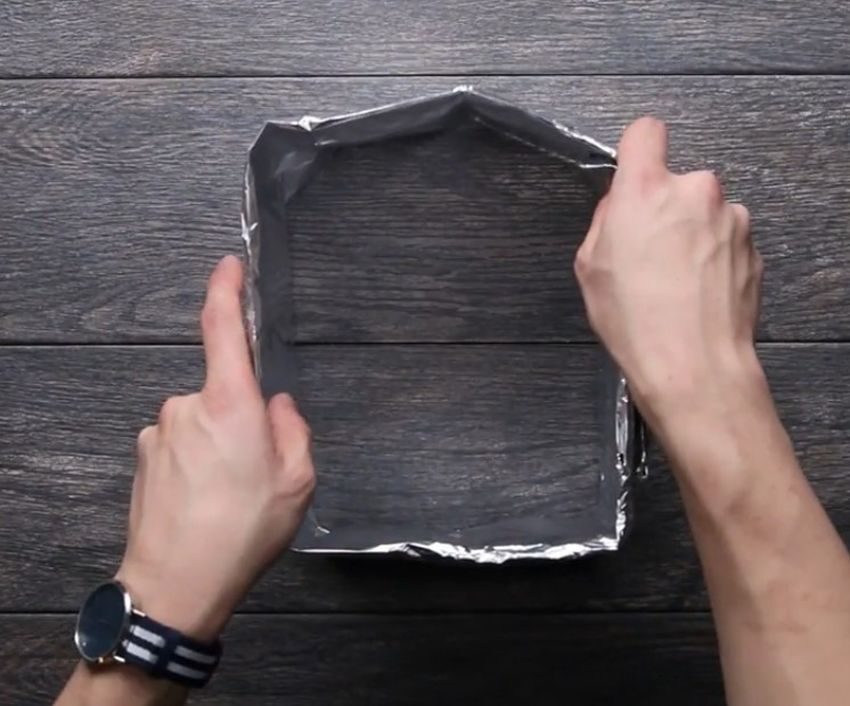 6. Use a large pot to melt the butter (medium heat).
7. Whisk in the flour; cooking until the mixture becomes lightly golden.
8. Slowly add the milk, whisking constantly until smooth. Mix in salt, pepper, and nutmeg.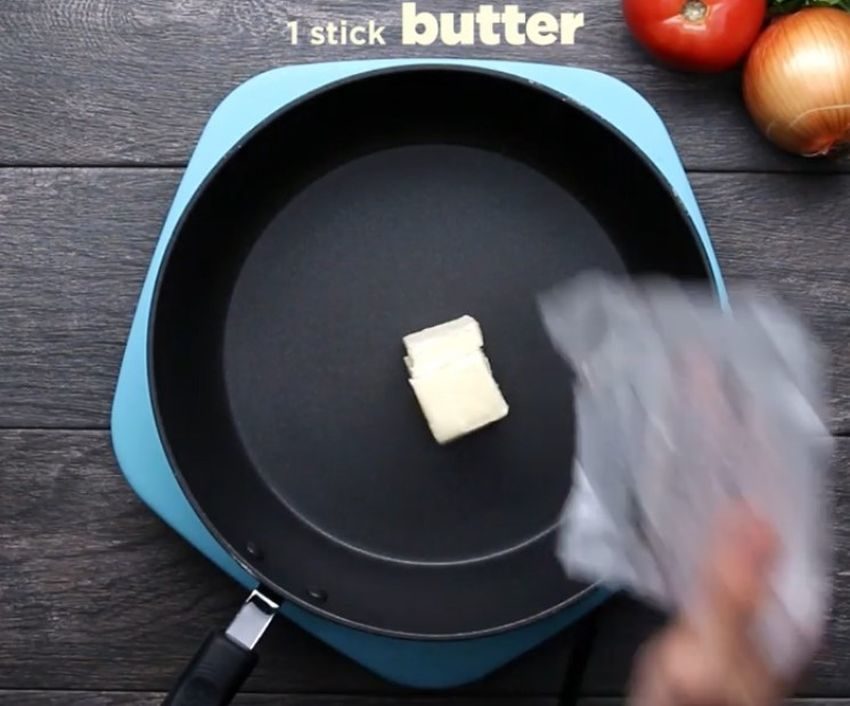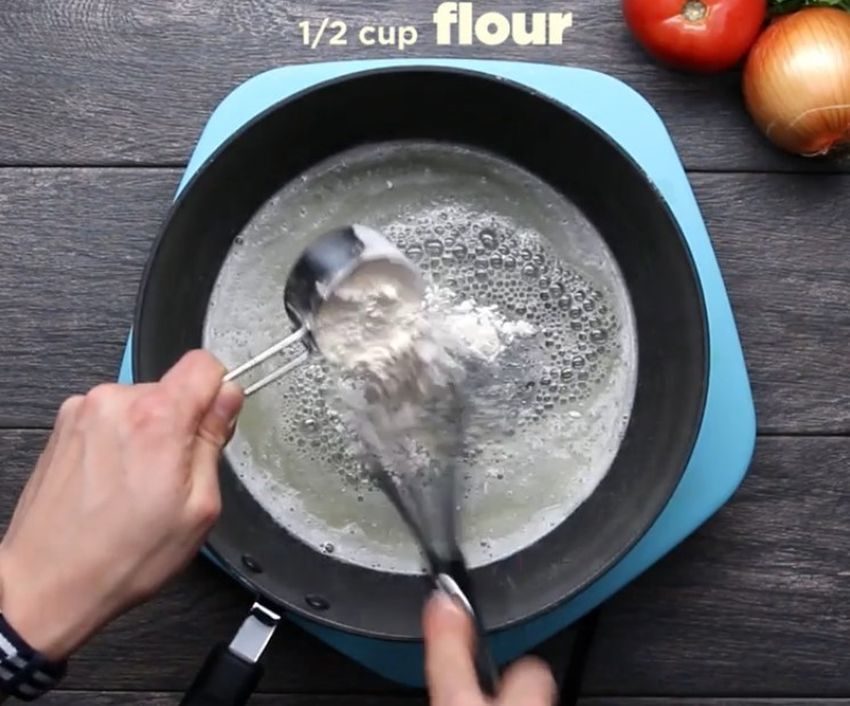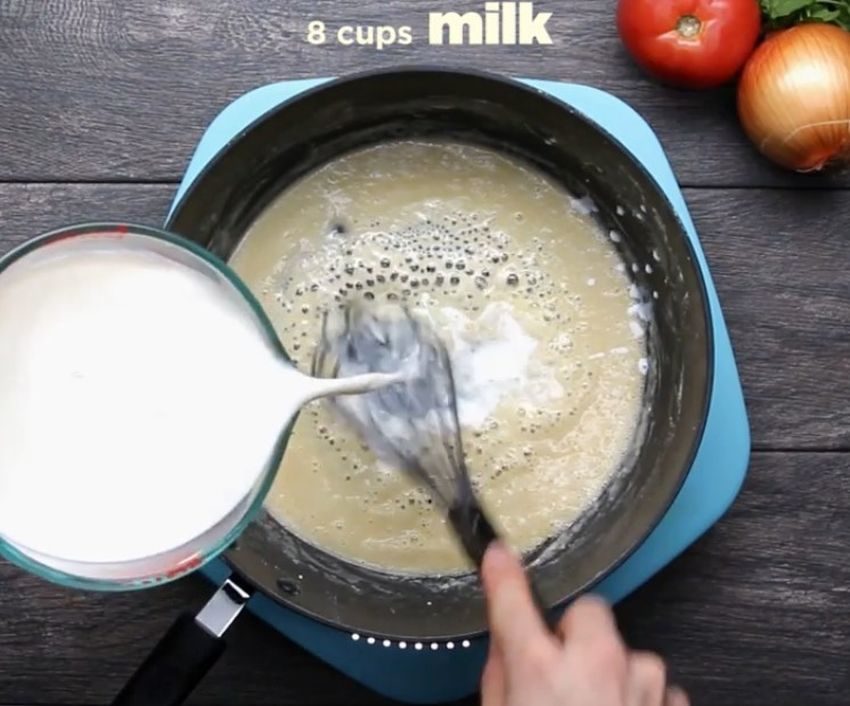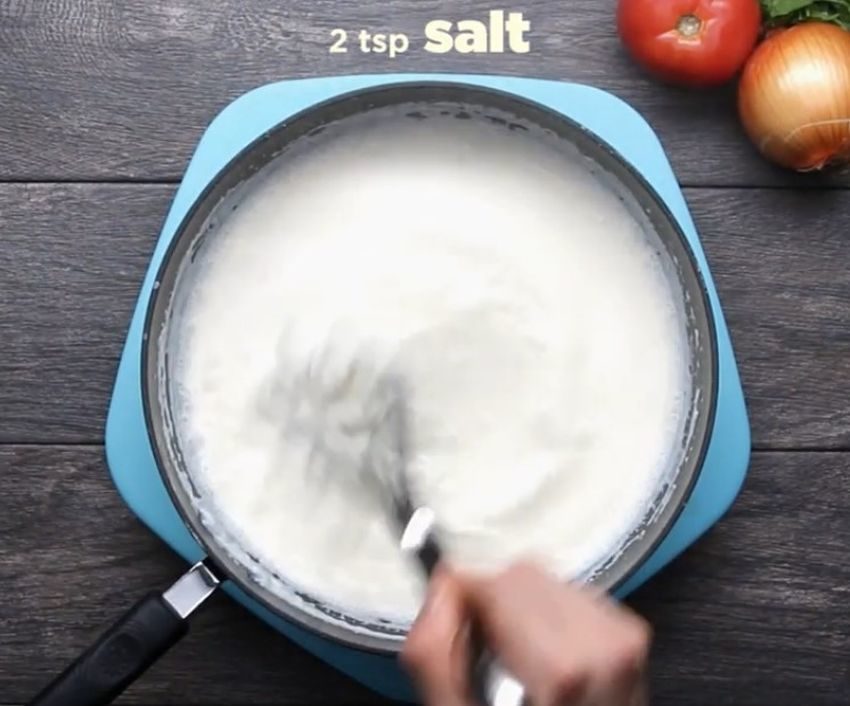 9. Transfer the béchamel to a large bowl and press plastic wrap onto the surface.
10. Use a very large pot to heat oil (high heat). Wait for it to shimmer, then add the onions, carrots, and celery; cook until the vegetables start to sweat (don't wait for them to become brown).
11. Add the ground beef, using a wooden spoon or spatula to break up the meat into small pieces.
12. Cook the beef, until half of the liquid has evaporated (stir occasionally).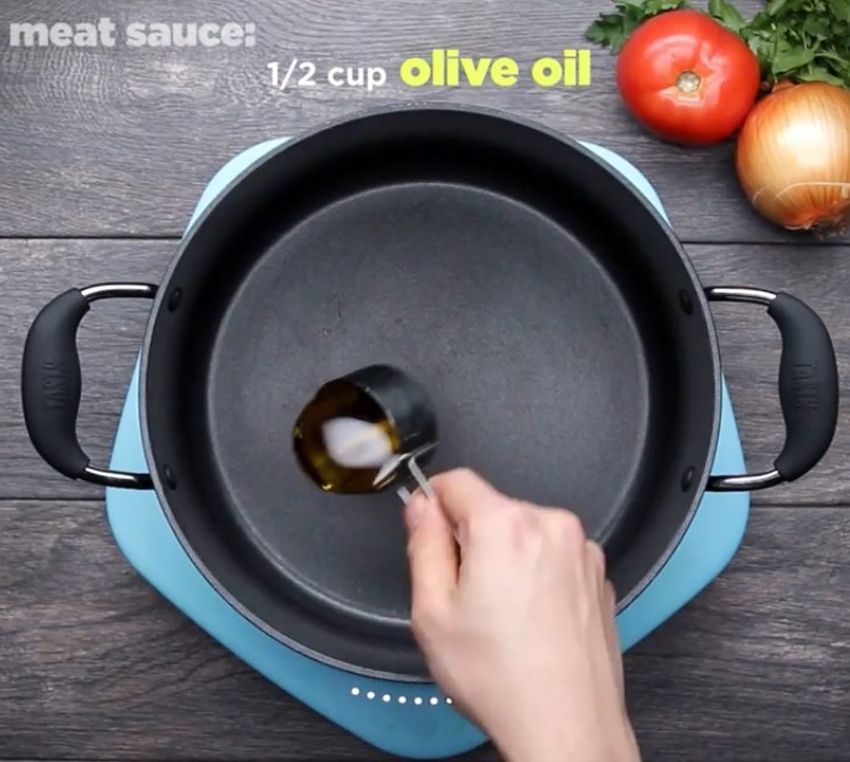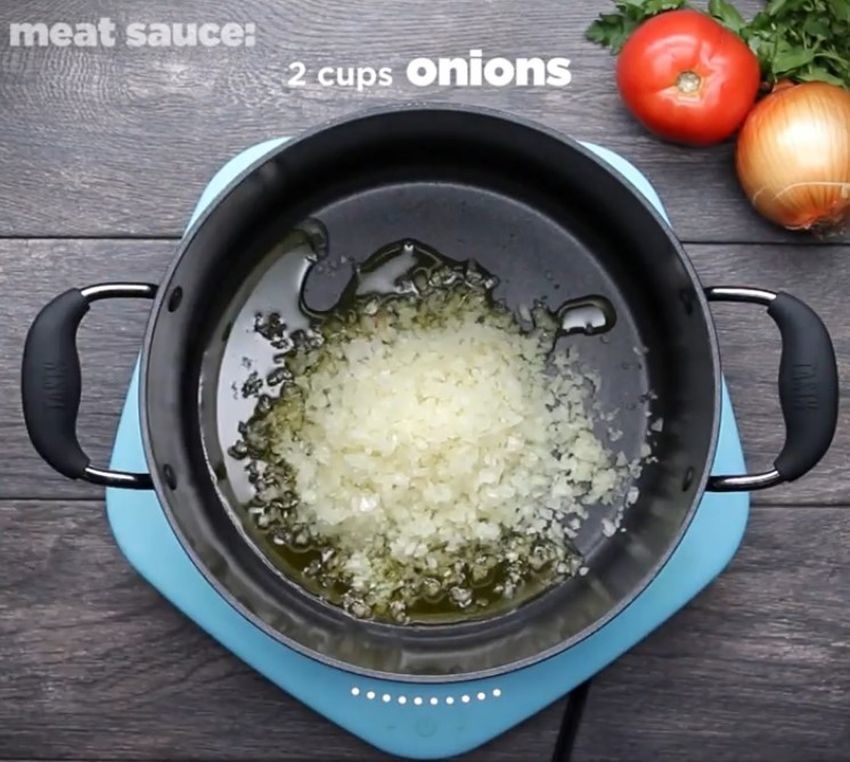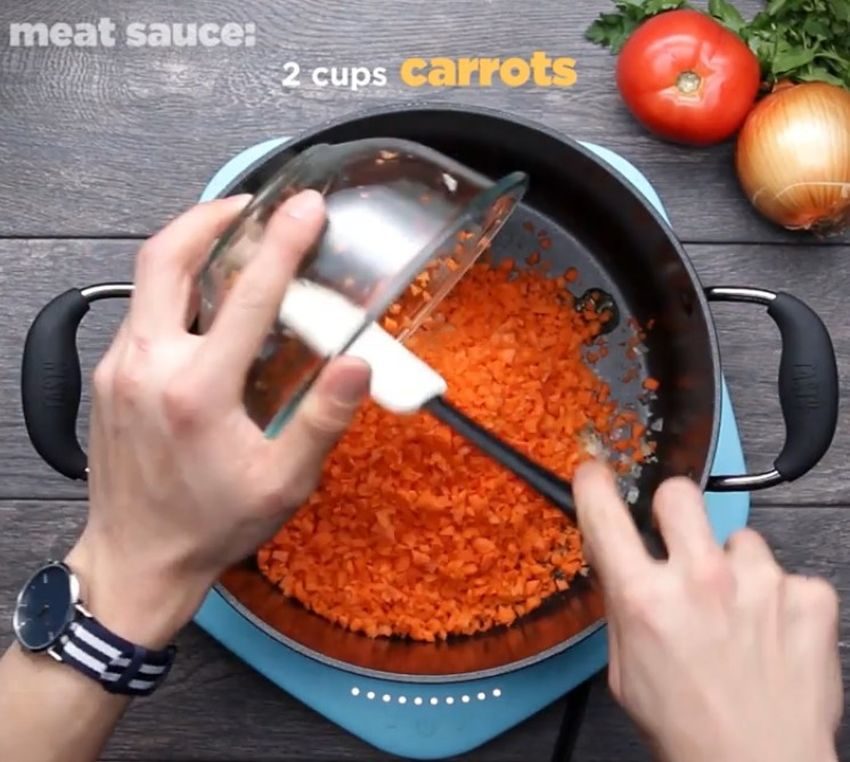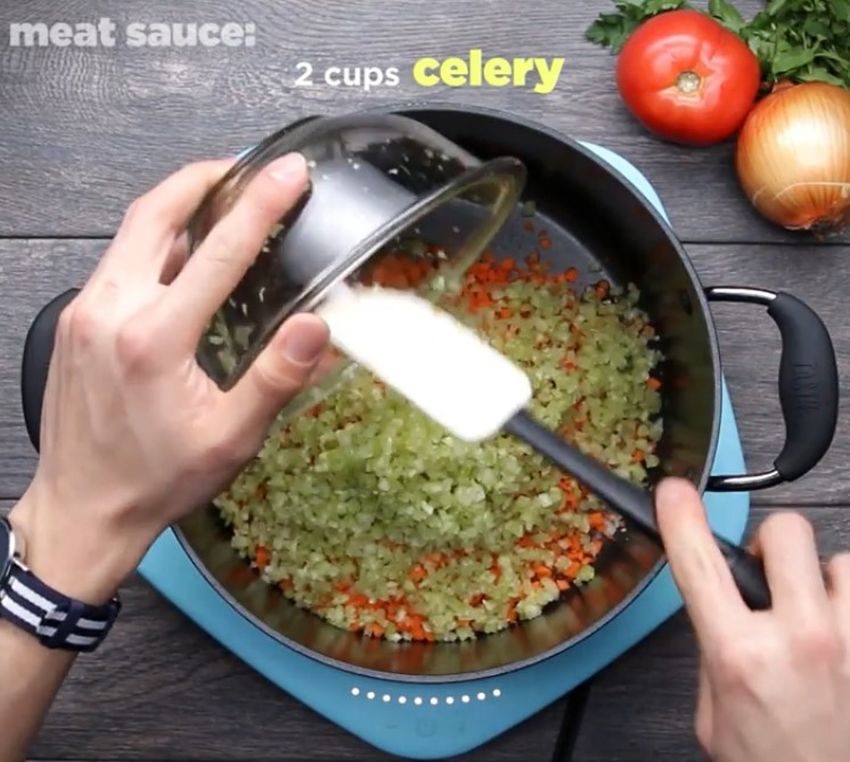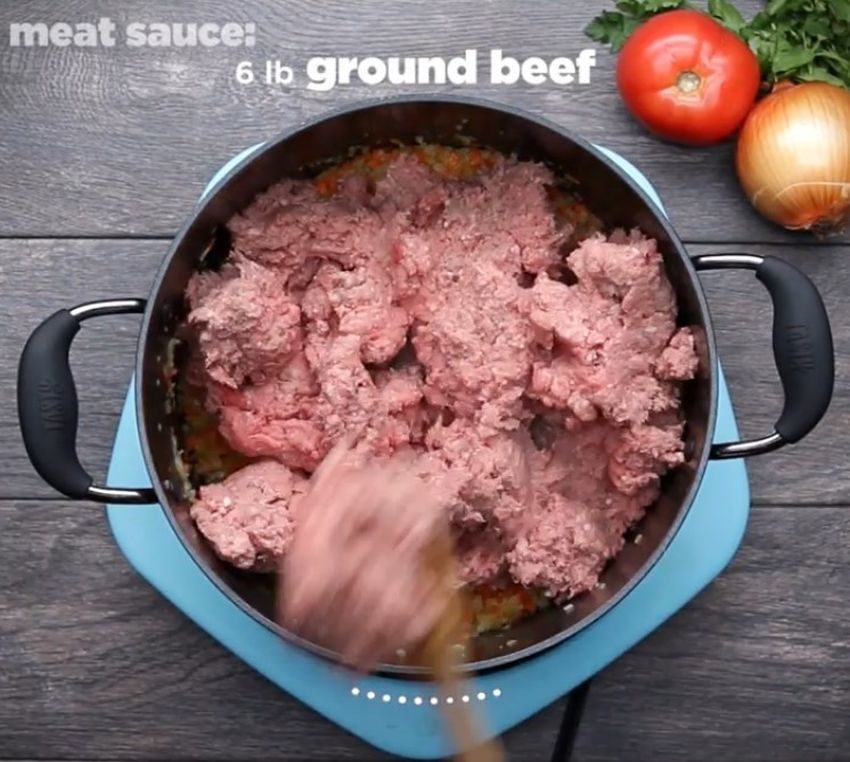 13. Add the tomato sauce, tomato paste, chicken stock, salt, and pepper; stir to break the lumps.
14. Turn down the heat to low; simmer, covered, for about 2 hours.
15. Line a greased 9×9-inch (23×23-cm) square baking pan with 2 sheets of foil.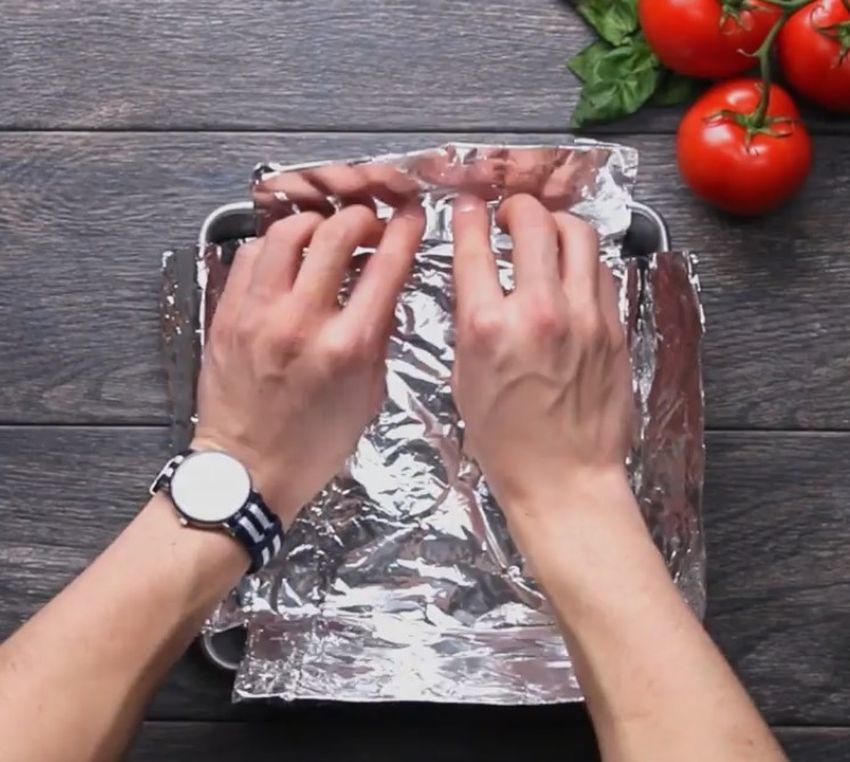 16. Spread a thin layer of béchamel on the baking pan; add 2 lasagna noodles on top. Then, spread a thin layer of meat sauce evenly across the noodles. Add a thin layer of béchamel again. Repeat the process, and alternate the direction of the lasagna sheets after every layer.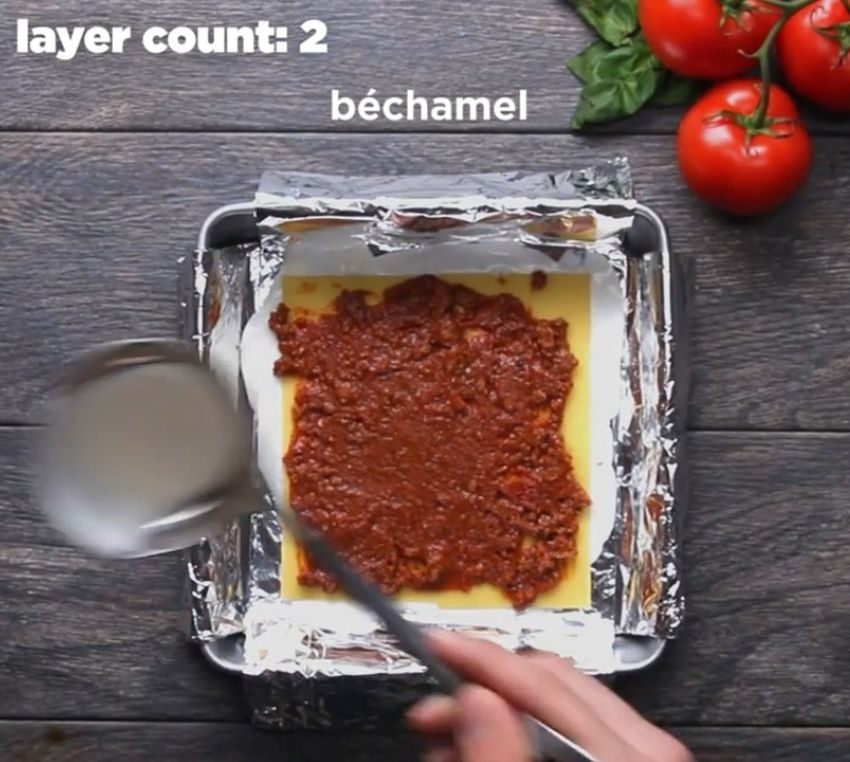 17. After 50 layers, place the foil box over the lasagna.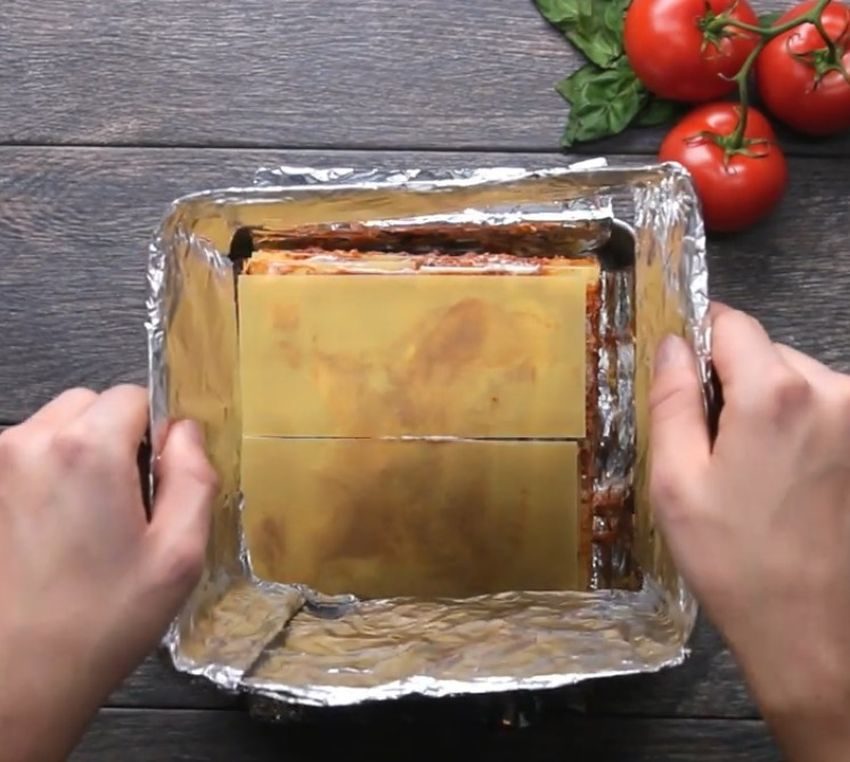 18. Continue with the layering process until you reach the 99th layer.
19. Sprinkle Parmesan on top; use the foil to cover the whole lasagna.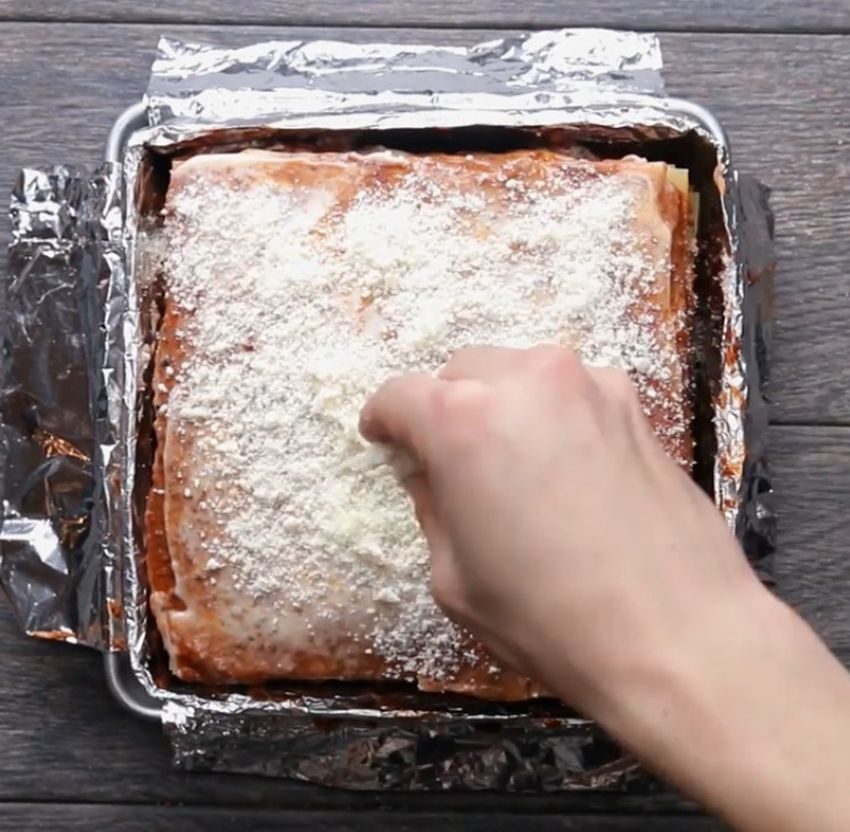 20. Bake for about 1½ hours, with the foil halfway uncovered, until the top becomes deep golden brown.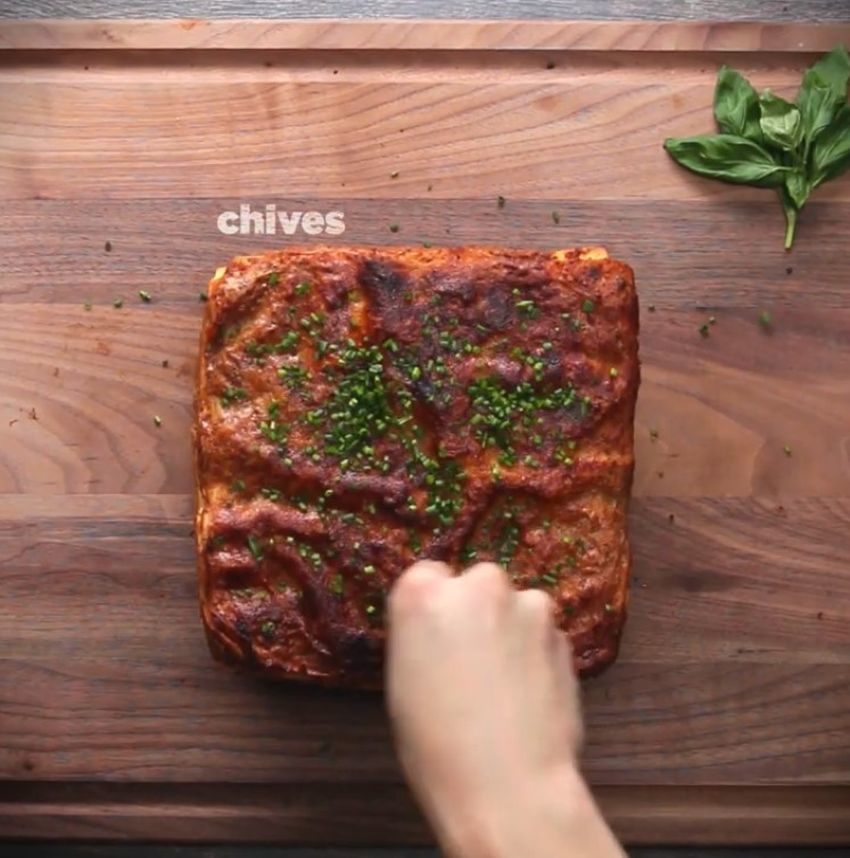 21. Cool for at least 2 hours.
22. Sprinkle the top of the lasagna generously with chives.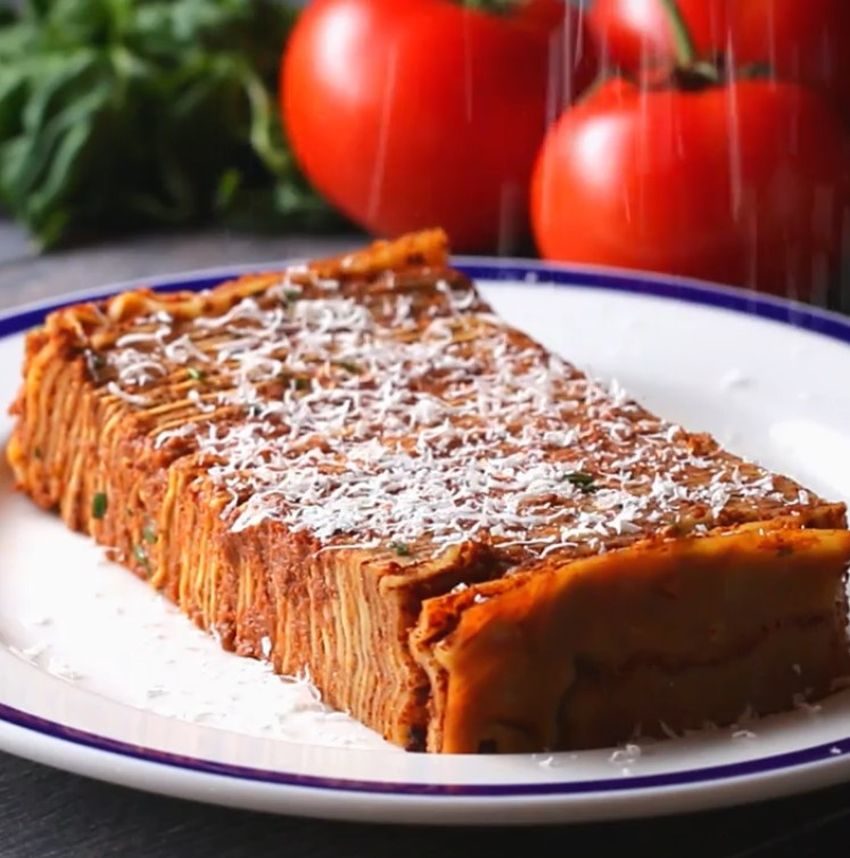 We hope that you like the recipe and that this will be your choice the next time you decide to have your friends over for lunch. Enjoy!